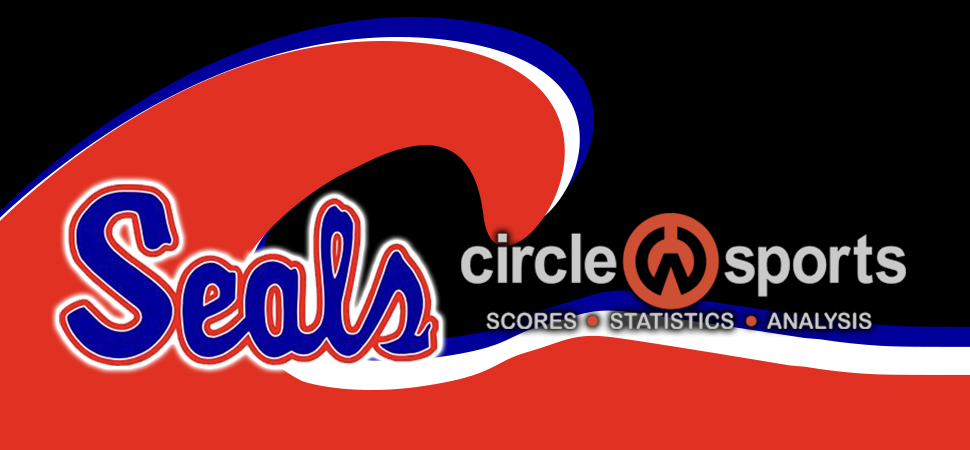 Selinsgrove beats Shamokin to move to 4-0 in HAC-I
By: Selinsgrove Athletics | Selinsgrove Athletics | January 14, 2023
SELINSGFROVE - Selinsgrove got big 3-pointers in the fourth quarter from Gabe Paulhamus and Nate Cataldi, and the Seals defense limited Shamokin to a season-low 41 points against a District 4 opponent as the Seals held on to beat Shamokin, 42-41.
The game turned into a defensive struggle between two teams that do it differently — the Seals like to mix-and-match zones to take advantage of their length, while the Indians are strictly a man-to-man team. Shamokin had a plus-five advantage on the glass and had six fewer turnovers than the Seals. However, the Selinsgrove's length didn't allow the Indians to take advantage of their 12 more shots from the floor. The Seals limited Shamokin to just 37% (16-of-43) from the floor, while the Seals were 16-of-31 (52%).
Another big advantage for the Seals was bench play. Cataldi had a team-high 13 points off the bench, which outscored Shamokin 16-0. Luke Piecuch played a big role defensively in limiting Shamokin sophomore Joe Hile to 10 points, and had two steals and block. Paulhamus knocked down a wing 3-pointer with 3:14 left to give Selinsgrove a lead it wouldn't relinquish.
After Paulhamus' 3-pointer, the game bogged down into what the defenses did best. A Jenssyn Shuey foul shot cut the Seals lead to 38-37 with 3:28 left, but Selinsgrove turned the ball over several times on its offensive end, while the Indians missed on three straight trips down the court.
Selinsgrove would finally push the lead back to four when Reis Naugle found Cataldi open in the corner. Cataldi — normally a shooter off the bench — scored on two drives early in the game off that corner feed.
"I figured they expected me to shoot those shots, so that's what I tried those floaters, hoping it would open up the 3-point shot," Cataldi said.
Cataldi took advantage to knock down three 3-pointers, his final one, rattled around twice, and finally fell through for a 42-39 lead for Selinsgrove.
"I said to Reis Naugle to look in that corner because it was open. They were just sagging down off me," Cataldi said. "He found me; I shot it, and I hit it. Honestly, I thought it was going to roll out. It took a couple of bounces on the rim, but it finally went down."
Shamokin called a timeout after crossing halfcourt and ran a play for a quick 3-pointer for Shuey off an inbounds. The sophomore big man knocked it down with 33.4 seconds left to cut the Seals' lead to 42-41.
It was a harrowing final few seconds for Selinsgrove and its fans. The Seals got the ball to Spencer George wide open under the basket against Shamokin's pressure, where he missed the layup. Naugle grabbed the rebound but missed the front end of a one-and-one.
The Indians pulled the rebound, and called timeout with 6.8 seconds left in the game. Joe Hile got a look at a 3-pointer with about three seconds left, and the rebound bounced out of bounds as time expired.
George kept Selinsgrove in the game early, scoring 12 of Selinsgrove's first 17 points. The Seals fell behind 10-4 early after a Case Lichty 3-pointer, but would rally for a 17-14 lead early in the second quarter after George, who made all five of his first-half shots, knocked down a 3-pointer.
The Indians (10-3, 3-1) would take a 19-17 lead after Cam Annis' three-point play capped five straight for the Indians, but it would be Shamokin's only five points of the second quarter. Selinsgrove held Shamokin scoreless for the final 6:17 of the first half, and scored the final 10 points to take a 27-19 lead at halftime.
Shamokin answered with the first 10 points of the second half. The Indians took a 29-27 lead after a Lichty 3-pointer with 3:24 left in the third quarter, but Naugle converted on a drive, and found Cataldi for a 3-pointer. When Blake Haddon scored on a foul-line step-back, Selinsgrove had the lead back to 34-29.
Shuey converted on an offensive rebound with 28 seconds left as the Indians started a 9-2 spurt that saw Selinsgrove go more than five minutes without a field goal. When Lichty knocked down his third 3-pointer of the game with 5:41 left in the fourth, the Indians took their final lead of the game at 37-36.
Cataldi and George were the only Seals in double figures, but Naugle, who attracted plenty of defensive attention from the Indians after 28 points on Wednesday in a win over Shikellamy, chipped in nine points, five rebounds and five assists.
Shuey finished with 16 points and eight rebounds, while Hile finished with 10 points. Rylan Price had five steals and four assists for Shamokin.
---
SELINSGROVE 42, SHAMOKIN 41
Shamokin (10-3) 41
Rylan Price 1 1-3 3; Joe Hile 4 0-0 10; Cam Annis 1 1-1 3; Case Lichty 3 0-0 9; Jenssyn Shuey 7 1-2 16. Totals 16 3-6 41.
3-point goals: Lichty 3, Hile 2, Shuey.
Did not score: Conner Mattern, Jason Leiby, Brett Nye.
Selinsgrove (9-5) 42
Ries Naugle 4 1-3 9; Gavin Bastian 0 2-4 2; Blake Haddon 1 1-2 3; Spencer George 5 0-0 12; Nate Cataldi 5 0-0 13; Gabe Paulhamus 1 0-0 3. Totals 16 4-9 42.
3-point goals: Cataldi 3, George 2, Paulhamus.
Did not score: Val Barillaro, Luke Piecuch, Tyler Swineford.
Score by quarters
Shamokin;14;5;15;7 — 41
Selinsgrove;13;14;7;8 — 42
JV: Sham, 46-44. High scorers, Sham, Gaven Renn, 15; Sel, Cam Smith, 28.