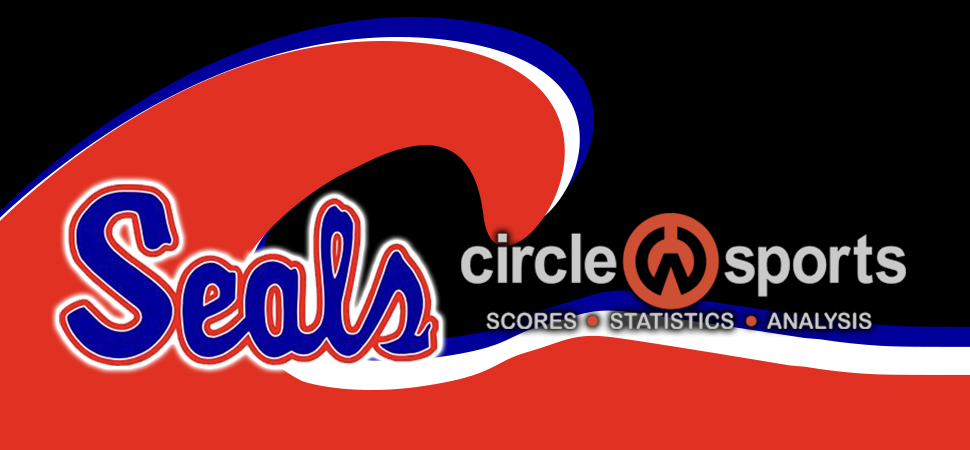 Seals go 3-1 at Red Land Duals
By: Selinsgrove Athletics | Selinsgrove Athletics | January 14, 2023
LEWISBERRY - Selinsgrove dropped just one match - to Central York High School - in going 3-1 on the day at the Red Land Duals, including a win over the host school in the final dual meet of the day.
Selinsgrove also beat Garden Spot and the York County School of Technology on the day.
Landyn Lukens (127) and Trent Turner (139) won all four matches on the day. Ethan Miller also went 2-0 on the day, picking up falls at 172 pounds.
Selinsgrove Area Hs (SAH) 58.0 Garden Spot Hs (GSH) 6.0
107: Mike Zettlemoyer (SAH) over (GSH) (For.) 114: Anthony Snook (SAH) over Matthew Casey (GSH) (Fall 1:36) 121: Nathan Martin (SAH) over (GSH) (For.) 127: Landyn Lukens (SAH) over Diego Portales (GSH) (Dec 7-6) 133: Tomo Allen (GSH) over Ryan Harpster (SAH) (Dec 6-5) 139: Trent Turner (SAH) over Josiah Smucker (GSH) (MD 15-3) 145: Matt Snook (SAH) over Justin Eberly (GSH) (Fall 2:45) 152: Garrett Paradis (SAH) over Sean Kelch (GSH) (Fall 3:07) 160: Sylvan Martin (SAH) over Christian Smucker (GSH) (Fall 2:17) 172: Jarod Bullington (SAH) over Albert Vega (GSH) (Fall 3:34) 189: Blake Weaver (GSH) over Tucker Teats (SAH) (Dec 3-2) 215: Jack Peters (SAH) over Tyler Hurst (GSH) (Dec 6-0) 285: Steven Miller (SAH) over Mason Musser (GSH) (Fall 1:39)




Selinsgrove Area Hs (SAH) 43.0 Red Land Hs (RLH) 21.0

133: Kyle Wonders (RLH) over Ryan Harpster (SAH) (Dec 10-4) 139: Trent Turner (SAH) over Justice Morgret (RLH) (Fall 3:39) 145: Matt Snook (SAH) over Brandon Calle (RLH) (Fall 2:32) 152: Marcus Plever (RLH) over Sylvan Martin (SAH) (Dec 3-2) 160: Garrett Paradis (SAH) over Connor Stank (RLH) (Fall 1:16) 172: Ethan Miller (SAH) over Josh Patrick (RLH) (Fall 1:54) 189: Tucker Teats (SAH) over Caden Gibson (RLH) (MD 9-1) 215: Bryce Phillips (RLH) over Jack Peters (SAH) (Dec 7-4) 285: Steven Miller (SAH) over Ethan Eisner (RLH) (Dec 4-1) 107: Sam Culp (RLH) over Mike Zettlemoyer (SAH) (Fall 2:16) 114: Corbin Hutchison (RLH) over Anthony Snook (SAH) (Fall 3:45) 121: Nathan Martin (SAH) over Garrett Anderson (RLH) (Fall 1:20) 127: Landyn Lukens (SAH) over (RLH) (For.)



Selinsgrove Area Hs (SAH) 63.0 York Co Sch Of Technology (YCSO) 4.0

114: Anthony Snook (SAH) over Dylen Godfrey (YCSO) (Fall 0:54) 121: Nathan Martin (SAH) over Chase Wentz (YCSO) (Fall 1:37) 127: Landyn Lukens (SAH) over Malachi Buer (YCSO) (Fall 0:44) 133: Cohen Butler (YCSO) over Ryan Harpster (SAH) (MD 9-0) 139: Trent Turner (SAH) over Levi Stevens (YCSO) (Fall 1:00) 145: Matt Snook (SAH) over Nick Creisher (YCSO) (MD 11-1) 152: Sylvan Martin (SAH) over Bryan Youngblood (YCSO) (Fall 5:16) 160: Garrett Paradis (SAH) over Blake Burton (YCSO) (Fall 0:44) 172: Ethan Miller (SAH) over Jonas Kwasnjuk (YCSO) (Fall 0:50) 189: Tucker Teats (SAH) over Kenneth Glover (YCSO) (TF 15-0 2:45) 215: Jack Peters (SAH) over Ethan Markel (YCSO) (Fall 4:10) 285: Steven Miller (SAH) over Pearce Alleyne (YCSO) (Fall 1:29) 107: Cole Lehr (YCSO) over Mike Zettlemoyer (SAH) (Fall 5:59)
Central York Hs (CYH) 46.0 Selinsgrove Area Hs (SAH) 22.0

121: Connor Knight (CYH) over Nathan Martin (SAH) (Dec 7-2) 127: Landyn Lukens (SAH) over Giovanni Silimperi (CYH) (Fall 1:02) 133: Elias Long (CYH) over Ryan Harpster (SAH) (Fall 0:46) 139: Trent Turner (SAH) over (CYH) (For.) 145: Wyatt Dillon (CYH) over Matt Snook (SAH) (Fall 0:42) 152: Kyle Setler (CYH) over Sylvan Martin (SAH) (Fall 3:40) 160: Carter Davis (CYH) over Garrett Paradis (SAH) (MD 15-3) 172: Macon Myers (CYH) over Jarod Bullington (SAH) (MD 14-5) 189: Tucker Teats (SAH) over Grant Miller (CYH) (Fall 0:49) 215: Jack Peters (SAH) over Ulonnam Ukattah (CYH) (MD 8-0) 285: Ian Scully (CYH) over Steven Miller (SAH) (Fall 2:27) 107: Harris Keares (CYH) over Mike Zettlemoyer (SAH) (TF 15-0 2:10) 114: Cash Twigg (CYH) over Anthony Snook (SAH) (Fall 3:12)