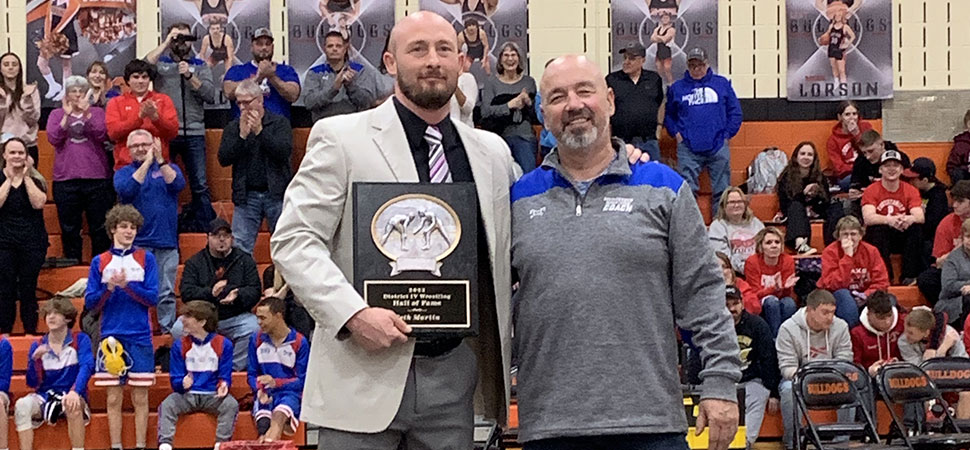 Martin Inducted Into District IV Wrestling Hall of Fame
By: Selinsgrove Athletics | Selinsgrove Athletics | February 20, 2023 | Photo courtesy Justin Simpson
Selinsgrove Wrestling head coach Seth Martin was inducted into the District IV Wrestling Hall of Fame at the District IV/IX tournament on Saturday.
Martin was a two-time district champion at Selinsgrove, a Northeast regional champion, and state runner-up in 2002 with a 40-1 record. At Lock Haven University, Martin compiled 113 career wins, an EWL champion, and a 3-time national qualifier. He was presented by his father, Leroy Martin.
Coach Martin would like to thank everyone for the honor of being placed alongside such an elite group of wrestlers. However, instead of listing all the reasons why he was added to this prestigious group, he would like to use the spotlight differently. While his career was very successful at the high school and D1 levels of wrestling, it was all just steppingstones to get him to his true wrestling purpose in life. The purpose of coaching. He thanks God for the privilege of working with young men and women in their attempts to reach their own goals both on the mat, and in life. He says if you really want to know how much of a stud he was back then, it shouldn't take long to look it up!
At the tournament the Seals finished 3rd overall with 157 points, trailing Shikellamy (186.5) and Williamsport (167).
Mike Zettlemoyer went 1-2 on the day to place 4th overall at 107 lbs., Anthony Snook finished 5th at 114 lbs. with a 1-2 record, Nathan Martin brought home a 2nd place finish going 2-1 at 121 lbs., and Landyn Lukens also placed 2nd at 127 lbs. with a 1-1 record.
At 133 lbs., Ryan Harpster took 4th at 1-2, Trent Turner finished 2nd at 139 lbs., Garrett Paradis went 1-1 to finish 2nd at 152 lbs., Ethan Miller finished in 3rd place at 160 lbs. with a 2-1 record, Tucker Teats went 2-1 to finish 2nd at 189 lbs., Steven Miller was 2nd at 215 lbs., and Jack Peters went 3-1 on the day to finish 3rd at 285 lbs.