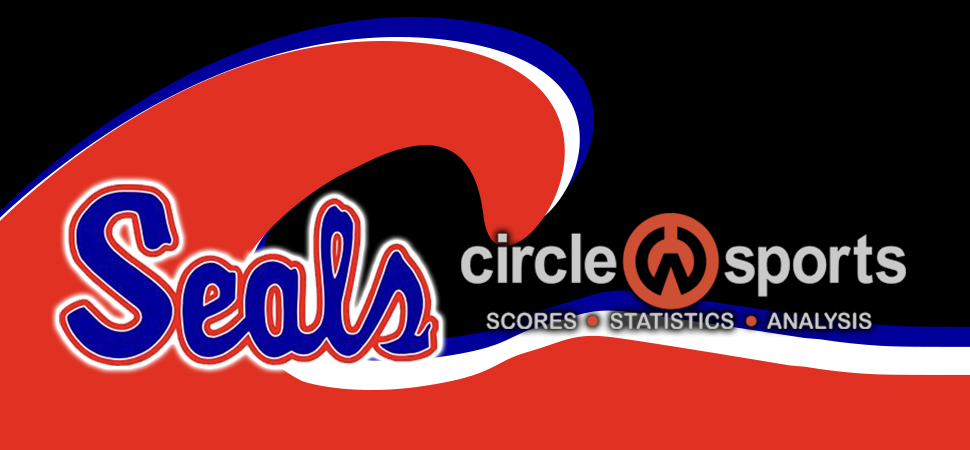 Selinsgrove rallies from 14 down at half
By: Selinsgrove Athletics | Selinsgrove Athletics | September 2, 2022
SELINSGROVE - With Selinsgrove quarterback Mark Pastore being treated for an injury late in the second quarter, it seemed like any hopes of a Seals' comeback were on the turf with the junior.
The injury essentially three-in-one as receiver Gavin Bastian moved to quarterback to replace Pastore - taking away the Seals top deep threat. Bastian, also the starting safety in the Selinsgrove defense. played less on defense in the second half with more responsibility on the offensive side of the ball.
As coach Derek HIcks told his team in the post-game huddle, the list of people that stepped up in the second-half rally is as long as the Seals' injury list.
Bastian guided an 85-yard scoring drive with less than two minutes left, and Caleb Hicks picked off the first pass of the ensuing Juniata drive to clinch Selinsgrove's 17-14 win over the Indians at Harold L. Bolig FIeld.
"I'd say we went into halftime with a negative mindset at first," Selinsgrove senior Nick Rice said.
"To battle though so many injuries," Bastian, who had to helped from the field himself at one point in the second half, said. "To be with my teammates ... everybody stepped up."
Bastian finished 6-of-7 for 119 yards, and a touchdown, along with the go-ahead QB sneak with 1:25 left in the game.
Rice, who had played much until this his senior season, had a 63-yard TD reception in the third quarter, along with a punt return inside the Juniata 20 to set up Carter Young's 36-yard field goal.
A receiver corps without its top receiver in Bastian made plays in the final drive - Ryan Gavason and Josh Domaracki both had big first-down grabs on the drive - to go along with Rice's catch-and-run in the third quarter.
Hicks - one of four new starters in the Selinsgrove secondary - had two of Selinsgrove's three interceptions of Juniata quarterback Aaron Kanagy. He also finished with seven tackles in the game.
Spencer George's nine tackles keyed a defensive line that kept constant pressure on Juniata quarterback Aaron Kanagy. They only had two sacks in the game, but Kanagy completed just 36 percent of his passes, and 58 of the team's 64 passing yards came on a wide receiver screen on the first drive of the game.
"It just shows we have heart. A lot of teams would have given up in that situation," Selinsgrove two-way lineman Max Maurer said. "Down 14-0 at halftime, it's not great. We were able to come back.
"That's exciting for the rest of the year."
Juniata (1-1) built its early lead thanks to two 80-yard drives, capped by Waylon Ehrenzeller's 2-yard TD runs in each of the first two quarters.
The first came after the opening kickoff, and was helped by a 58-yard wide receiver screen to freshman Jasper Shepps on a third-and-six.
The second came after Shepps made a pretty toe-tap interception in the end zone of a Pastore pass in the second quarter. On that drive, the Inndians covered 16 plays, converting a second-and-17 early in the drive, and a fourth-and-5 from the Seals 16 with a 10-yard run. The TD drive ate up 8:04 of the second quarter.
Pastore got hurt on the next Selinsgrove drive, and that put the Seals into a bit of scramble mode at least on the offensive side of the ball.
All we did at halftime really was take some snaps from center, and throw the ball around a little bit," Bastian said.
Derek Hicks added: "We just had some things to adjust on defense, and get with Gavin, who quite honestly has taken only a couple of snaps, so we needed to come up with a plan there."
Rice caught his 63-yard TD pass on the opening drive of the third quarter to cut the lead to 14-7, and the defense forced a quick three-and-out thanks to tackles for a loss by Corey Rumberger (a team-high 12 tackles) and Maurer.
Rice returned the ensuiing punt 27 yards to the Juniata 18, but the Seals had to settle for Young's 36-yard field goal.
The Seals offense sputtered, and Juniata used its running game to work 6:32 off the fourth-quarter clock. Selinsgrove stopped a quarterback sneak on fourth-and-5, getting the ball back with 2:56 left in the game, and without a first down since Rice's touchdown.
Bastian completed his first two passes of the drive - 24 yards to Rice and 11 yards to Domaracki. A pass interference call, and a 16-yard completion to Gavason had the Seals quickly to the Juniata 31.
After a 12-yard pass to Domaracki to the 3, Bastian snuck in from the one two plays later, and Young's PAT gave the Seals a 17-14 lead with 1:25 left in the game.
Shepps returned the kickoff to the Juniata 40, but Caleb Hicks picked off a pass on the next play to clinch the victory.



SELINSGROVE 17, JUNIATA 14

Juniata (1-1);7;7;0;0 — 14

Selinsgrove (2-0);0;0;10;7 — 17

SCORING SUMMARY

First quarter

JUN-Waylon Ehrenzeller 2 run (Brant Walter kick)

Second quarter

JUN-Ehrenzeller 2 run (Walter kick)

Third quarter

SEL-Nick Rice 63 pass from Gavin Bastian (Carter Young kick)

SEL-FG Young 36

Fourth quarter

SEL-Bastian 1 run (Young kick)

TEAM STATISTICS

;Jun;Sel

First downs;14;12

Rushes-net yards;43-188;27-76

Passing yards;64;131

Passing;4-11-3;7-14-1

Fumbles-lost;1-0;1-1

Penalties-yards;6-46;3-20

INDIVIDUAL STATISTICS

RUSHING — Juniata: Waylon Ehrenzeller 16-111, 2 TDs; Seth Laub 8-26; Jacob Dickinson 7-25; Aaron Kanagy 9-20; Caleb Smith 1-12; Talan Bennett 1-1; Wyatt Ehrenzeller 1-(-7). Selinsgrove: Garrett Paradis 9-58; Gavin Bastian 11-11, TD; Derek Holtzapple 3-10; Mark Pastore 2-2; team 2-(-5).

PASSING — Juniata: Kanagy 4-11-3 for 64 yards. Selinsgrove: Bastian 6-8-0 for 118 yards, TD; Pastore 1-6-1 for 13 yards.

RECEIVING — Juniata: Jasper Shepps 1-58; Makih Hunt 1-9; Wa. Ehrenzeller 2-(-3). Selinsgrove: Nick Rice 3-79, TD; Josh Domaracki 2-23; Ryan Gavason 1-16; Reese Feldman 1-13.