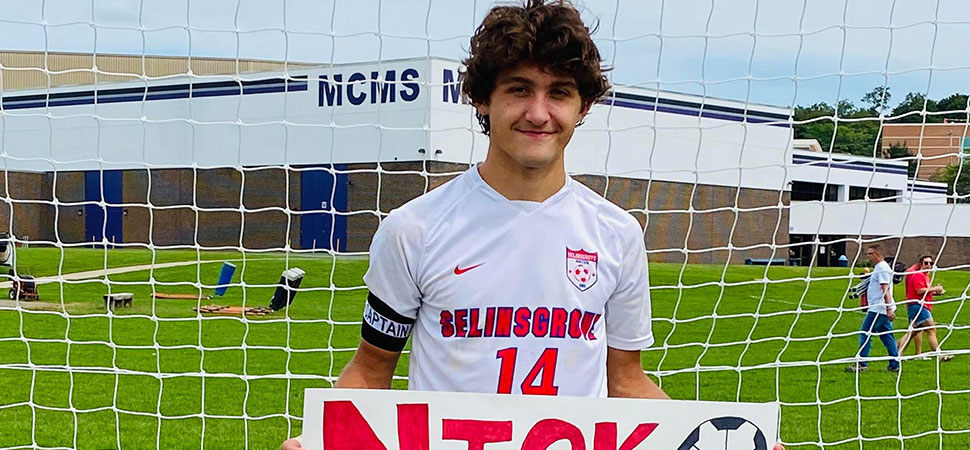 Ritter nets 100th career goal in win over Mifflin County
By: Selinsgrove Athletics | Selinsgrove Athletics | September 10, 2022
LEWISTOWN — Nick Ritter's goal broke a tie at the 17:10 mark of the first half, but maybe importantly, it was Ritter's 100th goal of his career.
It also loosened up the Seals, who scored six unanswered goals, in a 7-1 victory over Mifflin County.
Ritter — already the school's all-time leading scorer — got his record-setting goal off a Will Magee assist to give Selinsgrove a 2-1 advantage.
Logan Rodkey followed with two goals to give the Seals, a 4-1 lead at halftime.
Colin Findley, who opened the scoring for Selinsgrove, Ritter and Aiden Hunt all added second-half goals for Selinsgrove (4-1).
Magee finished with two assists. Ritter, Bobby Kruskie and Wyatt Kobel also had assists.
Mifflin County falls to 0-4.
---
Selinsgrove 7, Mifflin County 1
First half
S-Colin Findley (Will Magee), 32:17; MC-Henry Rivas, 25:40; S-Nick Ritter (Magee), 17:10; S-Logan Rodkey (Bobby Kruskie), 14:55; S-Rodkey, 4:47.
Second half
S-Findley (Wyatt Kobel), 27:50; S-Ritter, 17:34; S-Aiden Hunt (Ritter), 13:52.
Shots: S 26-9. Corners: S 7-5. Saves: Mifflin County 7 (Seth Miles); Selinsgrove 4 (Jonah Erb).