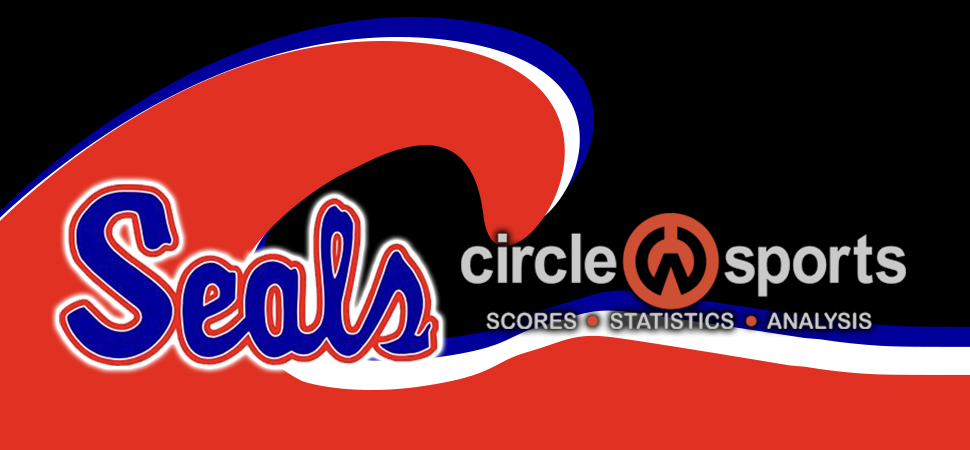 Seals offense explodes in shutout of Shamokin
By: Selinsgrove Athletics | Selinsgrove Athletics | September 11, 2021
COAL TOWNSHIP - Seven points in two games was just not sustainable for the Selinsgrove offense.
So on Wednesday, the Seals offensive coaching staff decided to switch things up, adding some wrinkles, and some spread to combat the all the defenders Selinsgrove was seeing in the box.
Add in Friday's extra day of practice, and it all added up to the Seals' best offensive output since their 2020 opening night win over Milton.
"The Saturday game was huge for us. The offensive guys got together this week, and put together a whole bunch of new stuff that wasn't in the playbook in the first two games," Selinsgrove coach Derek Hicks said. "Wednesday, it was a little scary, so that extra day to practice was just gigantic this week."
Sophomore quarterback Mark Pastore threw for 232 yards and two touchdowns in a 33-0 victory over Shamokin in Heartland Athletic Conference-Division I football at Kemp Memorial Stadium.
The Seals offense was so good, it nearly overshadowed another outstanding performance from the Selinsgrove defense.
Nearly.
The Seals D ate up the Shamokin offensive line from the get go. Shamokin quarterback Brett Nye was sacked by Damian Catherman on the opening offensive snap of the game, one of four Selinsgrove sacks in the first half. The Selinsgrove defensive front was so good on Saturday, Hicks didn't blitz nearly as much as normal.
"I told the front four when they were fresh, they were really getting heat," Hicks said. "They were playing so well, we didn't have go crazy with blitzes to do it."
In the Seals final game of 2020, Shamokin running back Max Madden ran for 204 yards on 36 carries. On Saturday, Selinsgrove limited Madden to 18 yards on 14 carries, including seven carries for one yard.
"Brandon Hile is beast, and so is Stephen Miller and Teague (Hoover)," Selinsgrove junior cornerback Nate Aument, who also had a big game at receiver, said. "We were just ready for everything."
"We wanted to prove something (after the district championship game). It's definitely a rivalry between us," Hile said of the Seals and Indians, who met for the fourth time since Sept. 25, 2020.
Hoover forced a fumble with a big hit that led to an Aaron Rothermel interception to set up a short touchdown run, and twice Aument tackled Shamokin receivers after completed passes on second down, one-yard short of the first down. In both instances, the Seals defense stuffed the ensuing running play, forcing a Shamokin punt. One of which came in the third quarter, where Hile came unblocked, and hit Madden as he got the handoff.
Back to the Selinsgrove offense, which scored on the opening drive and never looked back.
Freshman Gavin Bastian beat one-on-one coverage on a seam pattern, and caught a 58-yard TD pass from Pastore as the Seals took a quick 7-0 lead after Carter Young's PAT with 9:39 left in the first quarter.

"You know coming in Shamokin is going to go cover zero, and press you on the outside," Hicks said. "If you want to throw the ball, your receivers have to get off press coverage. Those two guys (Aument and Bastian) won a majority of the one-on-ones."
"We were ready for all the one-on-one matchups," said Aument, who finished with five catches for 108 yards. "We put in a lot of plays for that all week, and it worked this afternoon. Our defense has been good, but we've been working hard on our offense all week."

The game bogged down into a defensive struggle for the rest of the first half. The Indians managed to get into Selinsgrove territory twice in the first half. A first-and-10 on the Seals 38, ended in a punt after a penalty and a sack on second down by Corey Rumberger turned into a fourth-and-25.
Then late in the first half, Nye found Colin Seedor for a 28-yard gain to the Selinsgrove 26. After a 5-yard scramble made it second-and-5, Shamokin didn't gain anymore yards, and the drive stalled out on fourth down, when Ethan Miller and Spencer George combined for a sack.
The teams traded punts to start the second half. Selinsgrove had a 64-yard Tucker Teats punt return TD called back, but Aument broke four tackles on a slant pattern, and set the Selinsgrove offense up with a first-and-goal at the 4. Brandon Hile punched it in from 1 yard out with 3:40 left in the third quarter for a 14-0 advantage.
On the next Indians possession, they were called for a hold before a punt, and Selinsgrove decided to push them back 10 yards, and punt again.
That proved the disastrous for the Indians. Punter Blake Hockenbroch tried to pick up and kick an errant snap, but George jumped on the ball at the Shamokin 9. Logan Othoudt caught a 9-yard TD pass with 55.2 seconds left in the quarter for a 21-0 lead.
The Seals weren't quite done. Hoover hit Seedor as he caught a pass, knocking the ball in the air. Rothermel picked it off, and returned the ball to the Shamokin 3. Tucker Teats scored from there, and a Seals team that scored just 19 points in its first two games, led 27-0 after three quarters.
Teats added another short touchdown run, after he and Rothermel stuffed Shamokin standout Max Madden for a loss on fourth-and-1 from the Indians 31.
---
SELINSGROVE 33, SHAMOKIN 0
Selinsgrove (1-2) 7 0 20 6 — 33
Shamokin (1-2) 0 0 0 0 — 0
SCORING SUMMARY
First quarter
Sel-Gavin Bastian 58 pass from Mark Pastore (Carter Young kick)
Third quarter
Sel-Brandon Hile 1 run (Young kick)
Sel-Logan Othoudt 9 pass from Pastore (Young kick)
Sel-Tucker Teats 3 run (kick failed)
Fourth quarter
Sel-Teats 1 run (kick failed)
TEAM STATISTICS
Sel Sham
First downs 8 5
Rushes-net yards 31-47 33-(-11)
Passing yards 232 88
Passing 10-22-0 7-20-1
Fumbles-lost 2-0 2-1
Penalties-yards 4-31 8-55
INDIVIDUAL STATISTICS
RUSHING — Selinsgrove: Ethan Miller 4-21; Tucker Teats 8-16, 2 TDs; Brandon Hile 7-11, TD; Phil Gesumaria 2-13; Logan Othoudt 1-6; Corey Rumberger 1-1; Gavin Bastian 1-1; Mark Pastore 6-(-12); team, 1-(-20). Shamokin: Max Madden 14-18; Aaron Frasch 6-12; Knowledge Artis-Jones 1-7; Corey Adams 1-3; Tyler Whary 2-2; Blake Hockenbrock 1-(-21); Brett Nye 7-(-32).
PASSING — Selinsgrove: Pastore 10-22-0 for 232 yards and 2 TDs. Shamokin: Nye 7-20-1 for 88 yards.
RECEIVING — Selinsgrove: Nate Aument 5-108; Bastian 2-77, TD; Hile 1-26; Teats 1-12; Othoudt 1-9, TD. Shamokin: Collin Seedor 3-37; Whary 1-28; Frasch 1-9; Madden 1-8; Isaiah Mumford 1-6.