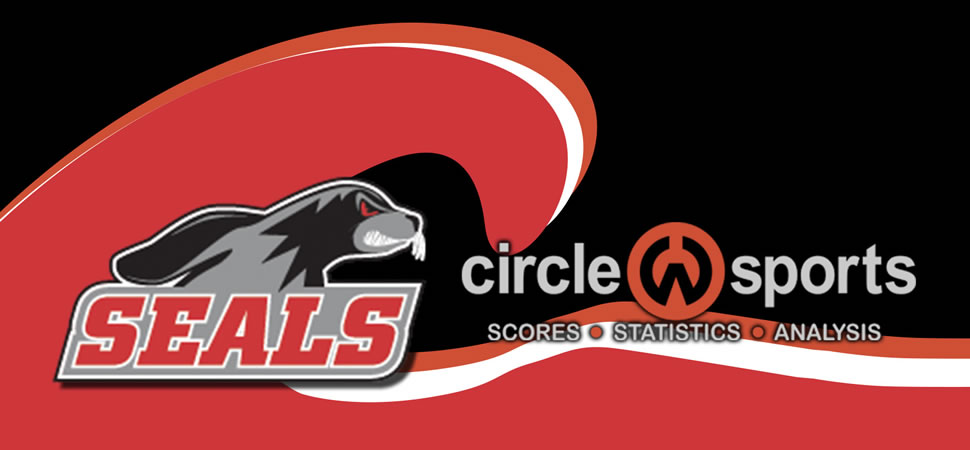 Slow start dooms Selinsgrove boys against rival Shikellamy
By: Selinsgrove Athletics | Selinsgrove Athletics | January 11, 2020
SELINSGROVE - It took a full two quarters for the Selinsgrove offense to get started on Friday night against Shikellamy.
By the time, the Seals got untracked at O.W. Houts Gymnasium on the campus of Susquehanna University it was too late.
Shikellamy raced out to a 17-3 lead, though the Seals cut the lead to single digits twice in the fourth quarter, the Braves hung on for a 50-36 victory.
Shikellamy (6-5, 3-3 HAC-I) got off to a fast start thanks to its defense and rebounding. The Braves, who held Mifflinburg scoreless for the final 2:45 in a win on Wednesday night, limited the Seals to just 12 first half points — nine of which came via Ivan DeJesus 3-pointers.
"We looked a little shell-shocked. Shikellamy came out with a ton of energy, we did not match it," Selinsgrove coach Ethan Hummel said. "We were just talking with the guys about how great our offense looks when we run it in practice.
"The energy is not there every second of practice and it comes back to hurt us in the games."
Shikellamy took a quick 8-3 lead just 2:43 into the game after Hernandez knocked down two foul shots. The Braves outrebounded Selinsgrove, 6-1, early, and their first three baskets came on putbacks, two by Marshall.
The Braves would build a 17-3 lead by the 6:15 point of the second quarter when Jarod Van Kirk knocked down a 3-pointer.
The Seals (3-6 overall, 0-4 HAC-I) cut a double-digit lead to seven when DeJesus knocked down a 3-pointer with 5:05 left in the fourth quarter to cut the Shikellamy lead to 38-31.
Marshall scored two buckets and Luciano added a layup and an assist as the Braves pushed their lead back to 44-31.
DeJesus, who scored 23 points on 8-of-13 shooting, including five 3-pointers, knocked down another trey to pull the Seals back to within eight with about 1:30 left, but Shikellamy scored the final six points of the game.
SHIKELLAMY 50, SELINSGROVE 36
Shikellamy (6-5) 50
Davis Marshall 5 0-0 10; John Peifer 3 0-1 7; Brayden Long 2 0-0 4; Nate Luciano 2 3-4 7; Jacob Hernandez 8 2-2 18; Chad Blasius 0 1-3 1; Jarod VanKirk 1 0-0 3. Totals 21 6-10 50.
3-point goals: Peifer, VanKirk.
Did not score: Dylan Stevens, Nate Minnier.
Selinsgrove (3-6) 36
Brett Foor 1 3-3 6; Ben Heim 2 0-0 4; Dylan DeFazio 1 0-0 3; Ivan DeJesus 8 2-3 23. Totals 12 5-6 36.
3-point goals: DeJesus 5, Foor, DeFazio.
Did not score: Ryan Reich, Ethan Harris, Spencer George, Jaron Clark, Tyrell Gates, Isaiah Ulrich, Ben Beiler.
Score by quarters
Shikellamy`12`12`14`12 — 50
Selinsgrove`3`9`12`12 — 36
JV: Shik, 46-42. High scorers, Shik, Cael Amerman, 16; Sel, Blake Haddon, 12.