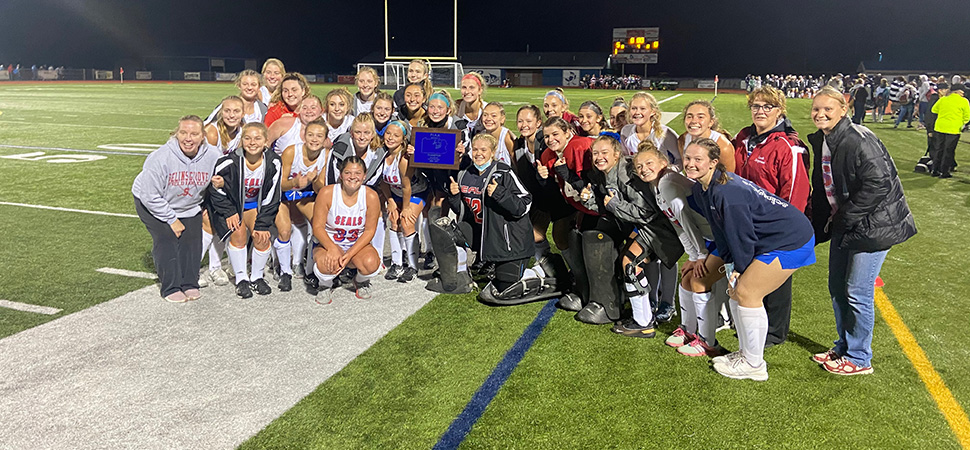 Selinsgrove wins 16th straight District 4 title
By: Selinsgrove Athletics | Selinsgrove Athletics | November 5, 2020
ALMEDIA - Nearly three weeks ago, the Shikellamy field hockey defense stymied a potent Selinsgrove offense, leading to a scoreless tie between the rivals.

The teams met in a rematch in the District 4 Class 2A championship game at Central Columbia High School, and the first 20 minutes of the game had the same feel.
The Seals attacked the cage, and the Braves' defense along with sophomore goalie Reagan Wiest kept Selinsgrove off the board.
When Ali Bucher broke through with 9:22 left in the first half, it finally opened up the flood gates for the Seals offense.
Freshmen Bucher and Carly Aument scored two 1/2 minutes apart, and five different Selinsgrove players scored in a 5-0 win over the Braves, that gave Selinsgrove its 16th straight District 4 field hockey title.
Senior Jess Alba had two assists in the victory to give her 100 career points for the Seals. Liv Reichley, Leah Toskey and Hailey Bingaman also tallied goals for the Seals (17-1-1). Toskey also assisted on Bucher's goal.
Selinsgrove didn't allow a shot or a corner in the game. Riley Batdorf and Lonna Temple didn't need to make a save in cage for Selinsgrove. Wiest finished with 17 stops for Shikellamy.
The Seals advance to the PIAA Tournament, and will be on the road on Nov. 14. Selinsgrove will face District 7 champion Penn-Trafford.
District 4 Class 2A Playoffs
Championship game
at Central Columbia H.S.
Selinsgrove 5, Shikellamy 0
Second quarter
Sel-Ali Bucher (Leah Toskey), 9:22; Sel-Carly Aument (Jess Alba), 6:42; Sel-Liv Reichley (unassisted), 5:53.
Third quarter
Sel-Leah Toskey (Alba), 4:24.
Fourth quarter
Sel-Hailey Bingaman (unassisted), 8:14.
Shots: Sel, 23-0. Corners: Sel, 17-0. Saves: Selinsgrove 0 (Riley Batdorf and Lonna Temple); Shikellamy 17 (Reagan Wiest).