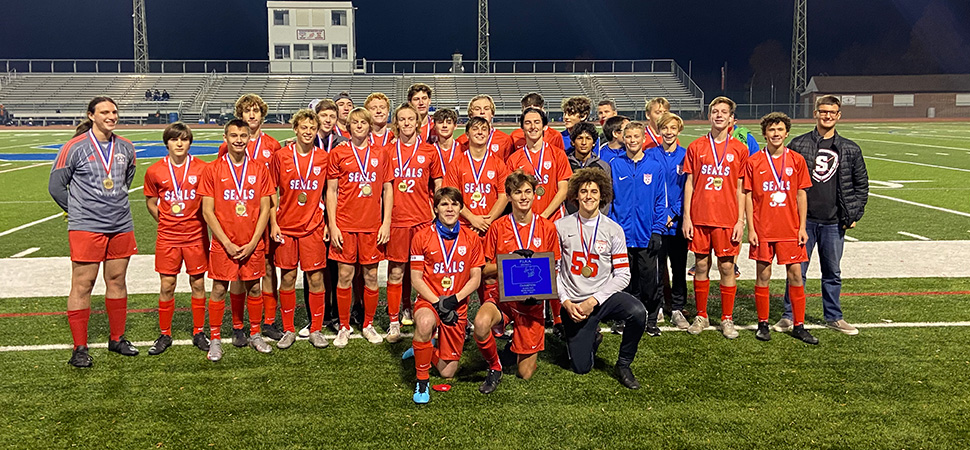 Selinsgrove rally falls short in state quarterfinals
By: Selinsgrove Athletics | Selinsgrove Athletics | November 7, 2020
DILLSBURG - Zak French scored with 3:20 left in the game to left an undefeated Northern York squad to a 4-3 victory over District 4 champion Selinsgrove in the PIAA Class 3A soccer quarterfinals.
The Polar Bears (18-0-1) became the first team to beat the Seals (17-3) other than Lewisburg.
Northern took a 3-0 lead on Selinsgrove, and it looked the rout might be one, but the Seals rallied.
Noah Derr got Selinsgrove on the board nine minutes before halftime to cut the Polar Bears lead to 3-1 at the break. Sophomore Nick Ritter then scored an unassisted goals 4:25 into the second half, then with 12:33 left in the game Derr scored again to tie the score at 3-3.
Matt Gilfert had a chance to give Selinsgrove the lead as his shot got by Northern goalie Josh Hoffman, but a Polar Bear defender was able to clear the ball before the go-ahead goal went over the line.
Northern York 4, Selinsgrove 3
First half
N-Shepard Soisson, 32:50; N-Spencer Silverling (Ashton Davis), 31:40; N-Maddox Davies, 10:24; Sel-Noah Derr, 9:00.
Second half
S-Nick Ritter, 35:35; S-Derr, 12:33; N-Zak French (Soisson), 3:20.
Shots: NY, 20-12. Saves: Selinsgrove 17 (Cole Catherman); Northern York 9 (Josh Hoffman).