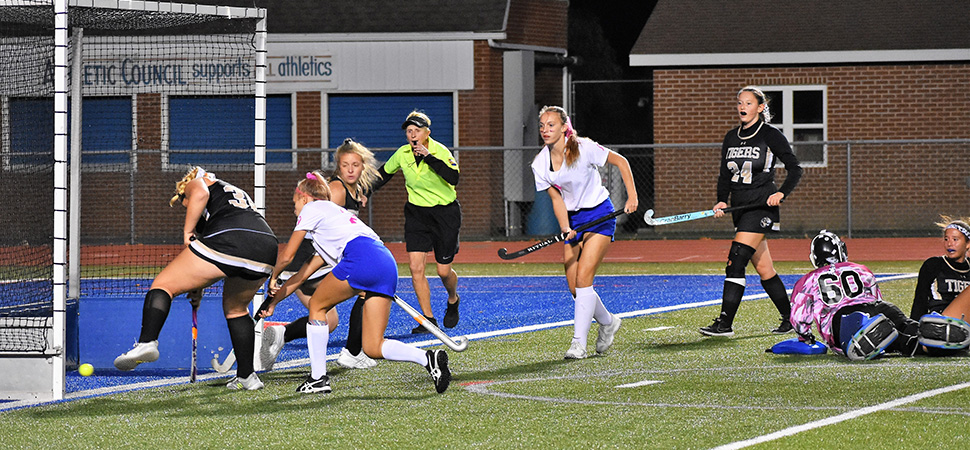 Selinsgrove knocks off Southern Columbia
By: Selinsgrove Athletics | Selinsgrove Athletics | October 7, 2020
SELINSGROVE - Selinsgrove scored a goal in each quarter as the Seals beat Southern Columbia, 4-0, in their annual pink game for breast cancer awareness at Harold L. Bolig Memorial Field.
The Seals raised over $400 for Thyra M Humphreys Center for Breast Health.
Carly Aument got Selinsgrove (12-1 overall, 7-0 PHAC-I) on the board with 3:37 left in the first quarter off an assist from Sydney Schmouder. Alli Bucher scored off a Jess Alba assist with 13:10 left in the second quarter.
Bucher scored her second goal with 1:57 left in the third quarter off a Liv Reichley assist. Alayna Davis scored an unassisted goal in the fourth quarter with 5:14 left in the game.
Selinsgrove led in shots (23-2) and corners (9-1). Lonna Temple made two saves for the Seals.
Selinsgrove 4, Southern Columbia 0
First quarter
Sel-Carly Aument (Sydney Schmouder), 3:37.
Second quarter
Sel-Alli Bucher (Jess Alba), 13:10.
Third quarter
Sel-Bucher (Reichley), 1:57.
Fourth quarter
Sel-Alayna Davis (unassisted), 5:14.
Shots: Sel, 23-2. Corners: Sel, 9-1. Saves: Selinsgrove 2 (Lonna Temple 0, Riley Batdorf 2); Southern Columbia 19 (Hanna Keller).