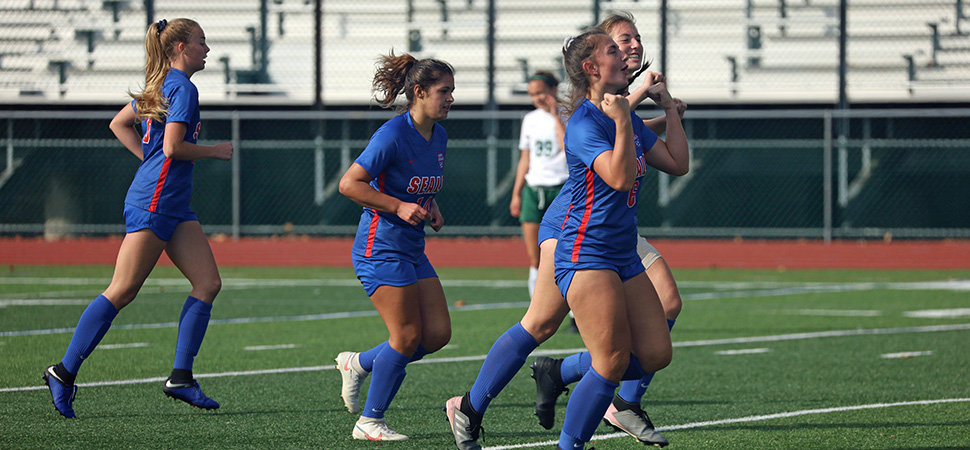 Selinsgrove beats Hughesville
By: Selinsgrove Athletics | Selinsgrove Athletics | October 11, 2020 | Photo courtesy Steve Varias
SELINSGROVE — Ella Magee and Lilian Poust each scored two goals to lead Selinsgrove to a 6-1 win over Hughesville in a Heartland Athletic Conference-crossover game on Saturday.
Selinsgrove (7-3-2) scored two goals in a 1:34 span of the first half. Poust scored off an assist from Elizabeth Diehl with 33:55 left in the first half. Jessica Smith scored off an assist from Kate Stover with 32:31 left in the first half.
The Seals put the game away with four second-half goals.
Poust scored her second goal - off an assist from Annalise Bond - with 30:53 left in the game to push the lead to 3-0.
Selinsgrove then scored three goals in the final 10:03 of the game. Magee scored off an assist from Poust with 10:03 left in the game. Magee then scored of a Stover assist with 1:50 left in the contest. Amsa Courtney wrapped the scoring with 14.8 seconds left in the game. Smith had the assists on the goal.
Alivia Ravy had six saves in the victory for Selinsgrove.


Selinsgrove 6, Hughesville 1
First half
Sel-Lilian Poust (Elizabeth Diehl), 33:55; Sel-Jessica Smith (Kate Stover), 32:31.
Second half
Sel-Poust (Annalise Bond), 30:53; Sel-Ella Magee (Poust), 10:03; Sel-Magee (Stover), 1:50; Sel-Amsa Courtney (Smith), :15.
Shots: Sel, 14-7. Saves: Selinsgrove 6 (Alivia Ravy); Hughesville 11.