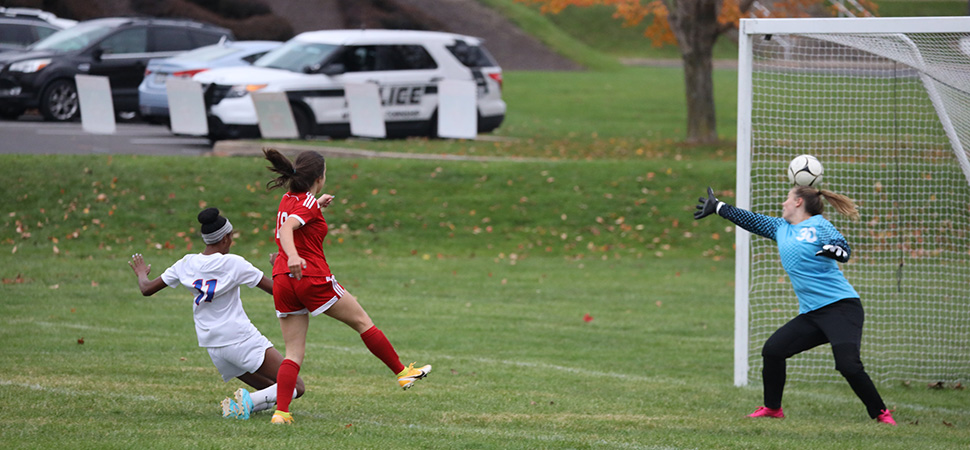 Magee's hat trick paces Seals win over Mount Carmel
By: Selinsgrove Athletics | Selinsgrove Athletics | October 19, 2020 | Photo courtesy Steve Varias
MOUNT CARMEL - Mount Carmel surprised Selinsgrove with a goal just two minutes into the game, but the Seals scored six straight goals to notch a 6-2 victory over the Red Tornadoes in a Pennsylvania Heartland Athletic Conference-crossover game.
Ella Magee had a hat trick, and assisted on a fourth goal for Selinsgrove (10-4-2 overall, 6-2-2 PHAC-I). Magee tied the game with 34:04 left in the first half off an assist from Jessica Smith. Tyeana Barge then broke the tie with 17:22 left in the opening half off an assist from Lizzie Diehl.
Amsa Courtney scored off a Veronica Stanford assist with 16:33 left in the opening half, before Magee scored an unassisted goal 1:44 before halftime to give Selinsgrove a 4-1 lead at the break.
Sydney Shatzer off an assist from Magee, and Magee off an assist from Ella McGlaughlin added second-half goals for Selinsgrove.
Alivia Ravy made 13 saves for Selinsgrove in the victory.
Selinsgrove 6, Mount Carmel 2
First half
MC-Talia Mazzatesta (Mia Chapman), 2:00; S-Ella Magee (Jessica Smith), 5:56; S-Tyeana Barge (Lizzie Diehl), 22:38; S-Amsa Courtney (Veronica Stanford), 23:27; S-Magee, 28:16.
Second half
S-Sydney Shatzer (Magee), 47:29; S-Magee (Ella McGlaughlin), 53:34; S-Chapman, 64:44.
Shots: S, 19-18. Corners: MC, 2-1. Saves: Selinsgrove 13 (Alivia Ravy); Mount Carmel 10 (Gabby McGinley).