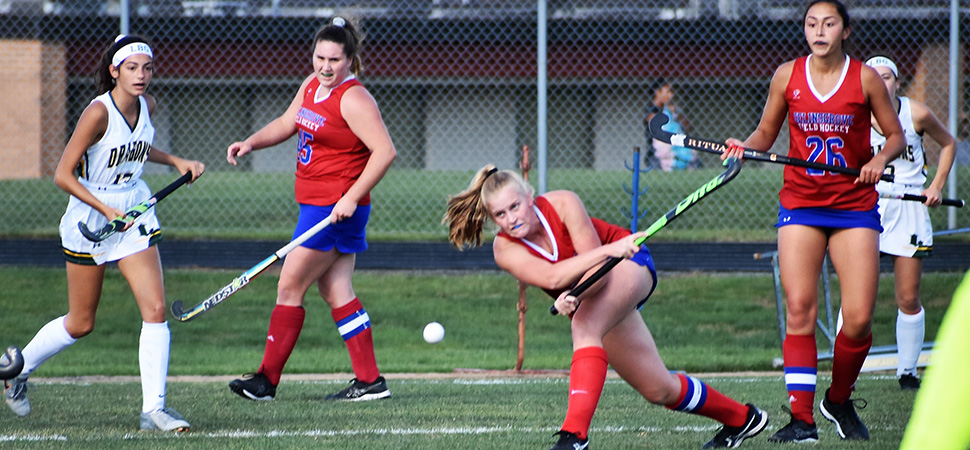 Lewisburg deals Selinsgrove first field hockey loss
By: Selinsgrove Athletics | Selinsgrove Athletics | September 30, 2020 | Photo courtesy Steve Varias
LEWISBURG - Lewisburg's Kara Koch took advantage of a green card, using the restart, to score on a breakaway to lift the Green Dragons to 2-1 win over Selinsgrove in overtime.
It's just the fourth time the Seals have lost to a Heartland Athletic Conference foe since 2008 - three of those have come to Lewisburg at the Pawling Athletic Complex, including one in each of the last two years. Lewisburg improves to 5-1 on the season. The Seals are now 7-1.
Jess Alba put Selinsgrove on the board first, scoring off an assist from Emily Fry with 8:07 left in the second quarter.
Koch set up the tying goal after Selinsgrove goalie Riley Batdorf made a save on a Lewisburg corner. Koch set the ball back into the circle where Rylee Dyroff tied the game with just 2:05 left in the contest.
Koch's game-winner came with 8:46 left in overtime.
Selinsgrove led in shots (9-7) and corners (7-5). Batdorf had five saves in cage for the Seals.
Lewisburg 2, Selinsgrove 1
Second quarter
Sel-Jess Alba (Emily Fry), 8:07.
Fourth quarter
Lew-Rylee Dyroff (Kara Koch)
Overtime
Lew-Koch (unassisted), 8:46.
Shots: Sel, 9-7. Corners: Sel, 7-5. Saves: Selinsgrove 5 (Riley Batdorf); Lew 8 (Keirsten Koons).
Lewisburg - 2 Selinsgrove - 1




Q2

S - 8:07 Jess Alba (assist Emily Fry)




Q4

L - 2:05 Rylee Dyroff (assist Kara Koch)




OT

L - 8:46 Koch




Corners: L - 5 S - 7

Shots on Goal: L - 7 S - 9

Goalie Saves: L - 8 (Kerstin Koons) S - 5 (Riley Batdorf)