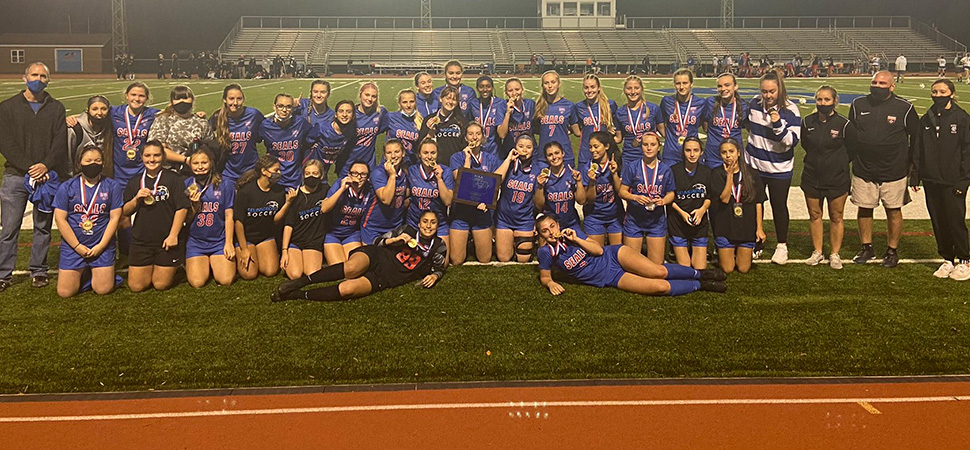 Freshman's goal sends Seals into state semifinals
By: Selinsgrove Athletics | Selinsgrove Athletics | November 7, 2020
BERWICK - Abigail Parise beat two Berwick defenders to create her own breakway attempt, scoring the only goal in the PIAA state quarterfinals at Berwick's Crispin Field as the freshman helped the Seals beat Berwick, 1-0, in the PIAA Class 3A quarterfinals.
Selinsgrove will play Villa Joseph Maria in the state semifinals. It's Selinsgrove's first appearance in the girls soccer semifinals since a loss to the same school back in 2000. Current coach Cheryl Underhill was a forward on that team.
Selinsgrove's semifinal will be played at Pailsades High in Kintersville, southeast of Allentown.
Parise goal came with 19 minutes left in the game. The Seals' defense did a great job of limiting Berwick's chances until the final minute. Berwick's Kayla Fernandez got free with about 15 seconds left in the game, and got a shot off. Goalie Alivia Ravy was able to make the save - with her face - and the ball started towards the goal line. The senior goalie remained composed, grab the ball after one bounce and sealed the semifinal berth for the Seals.
Ravy had eight saves in the victory
PIAA CLASS 3A
QUARTERFINAL
SELINSGROVE 1, BERWICK 0
Second half
S-Abigail Parise, 60:35.
Shots: B, 15-9. Shots on goal: B, 10-6. Corners: S, 7-5. Saves: Selinsgrove 8 (Alivia Ravy); Berwick 5 (Emily Ouimet). Fouls: Selinsgrove 8; Berwick 1. Offsides: Selinsgrove 7; Berwick 3.