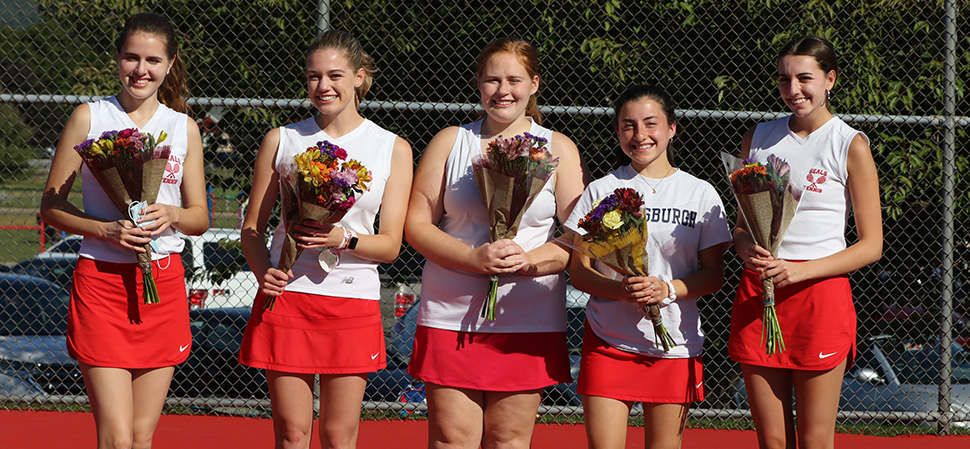 Central Mountain beats Selinsgrove
By: Selinsgrove Athletics | Selinsgrove Athletics | September 21, 2020
MILL HALL - Central Mountain swept Selinsgrove in a Heartland Athletic Conference-Division I matchup.
The best match of the day came at No. 1 singles where the Wildcats' Caroline Carpenetti battled Fiona Finnerty. All three sets finished at 6-3, with Carpenetti winning the third set to claim the match.
Emelie Snook and Natalie Imhoff battled the Wildcats' No. 1 doubles team of Caitlyn Dale and Ella Talbot, pushing the first set into a tie break, before falling 7-6 (7-5), 6-4.
Central Mountain improves to 8-1 overall, 7-0 HAC-I. Selinsgrove is 5-4, 5-3.
Central Mountain 5, Selinsgrove 0
Singles
Caroline Carpenetti (CM) def. Fiona Finnerty, 6-3, 3-6, 6-3.
Olivia Anastos (CM) def. Avery DeFazio, 6-3, 6-2.
Kati Kwiatek (CM) def. McKenna Parker, 6-2,
Doubles
Caitlyn Dale-Ella Talbot (CM) def. Emelie Snook-Natalie Imhoof, 7-6 (7-5), 6-4.
Ellie Gundy-Claire Long (CM) def. Sophie Markle-Olivia Miller, 6-1, 6-1.