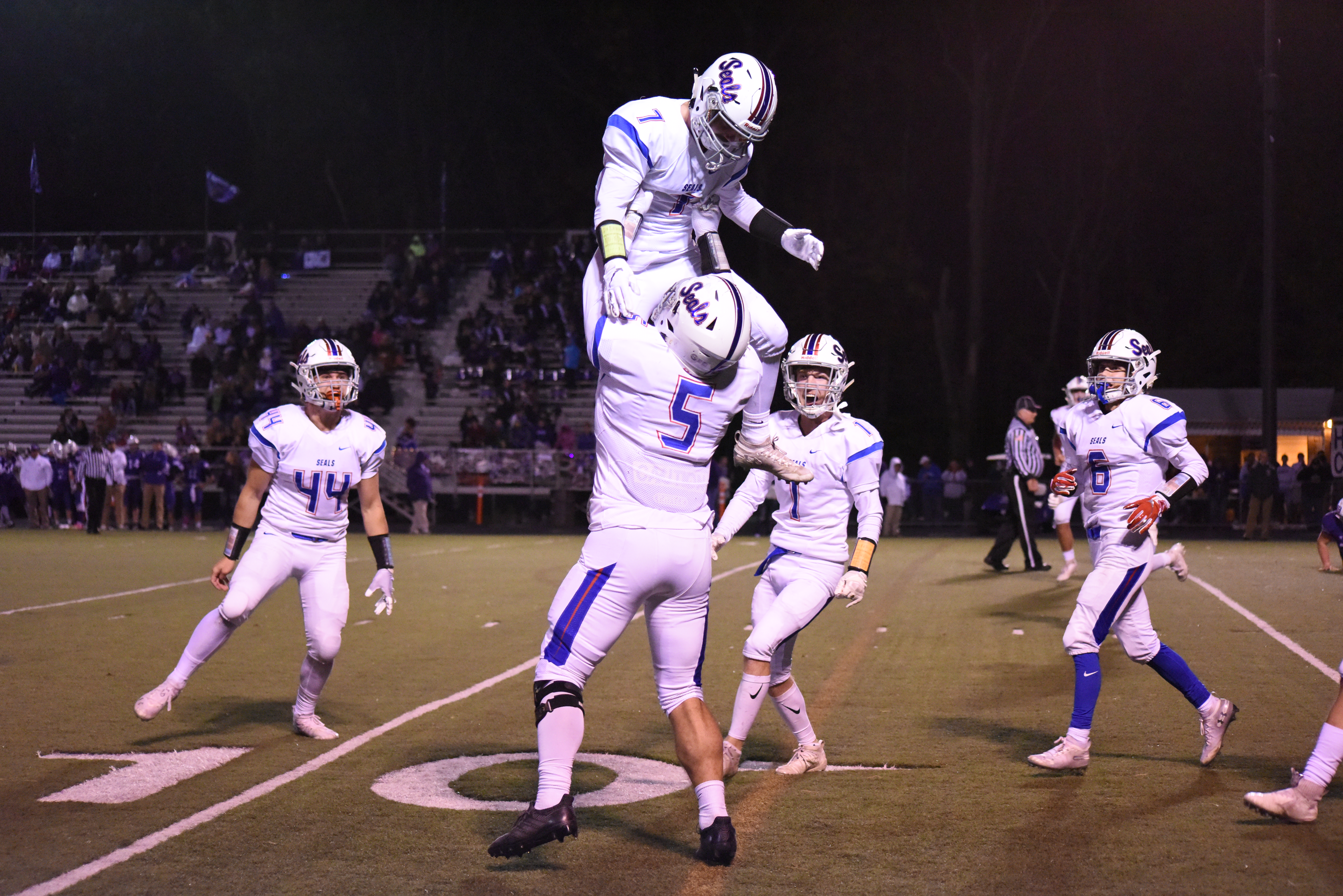 Special teams, defense huge in Seals win
By: Selinsgrove Athletics | Selinsgrove Athletics | October 5, 2019
COAL TOWNSHIP - Wyatt Metzger pinned Shamokin deep in its own end twice in the first half with punts to set up two Nate Schon touchdowns and the Seals' defense pitched a shutout in a 27-0 victory over Shamokin in a Heartland Athletic Conference-Division I game at Kemp Memorial Stadium.
Early in the first quarter, Metzger hit a 68-yard punt that got a favorable roll to the Shamokin 2. On the second play, the Indians fumbled the ball and Josh Nylund recovered on the 6. Two Schon runs later, the Seals led 6-0.
Then late in the second quarter, Metzger pinned the Indians at their own 1 with a 44-yard punt. The next play the Indians fumbled and Schon jumped on it in the end zone with 1:15 left in the first half.
Danny Shoch then threw two touchdown pass in the second half - one of 70 yards to Nylund and another of five yards to Metzger - to seal the Seals win.
SELINSGROVE 27, SHAMOKIN 0
Selinsgrove (4-3, 3-1)`6`7`7`7 — 27
Shamokin (2-5, 1-3)`0`0`0`0 — 0
Scoring summary
First quarter
Sel-Nate Schon 3 run (kick failed), 7:42
Second quarter
Sel-Schon fumble recovered in end zone (Kyle Ruhl kick), 1:15
Third quarter
Sel-Josh Nylund 70 pass from Danny Shoch (Ruhl kick), 6:43
Fourth quarter
Sel-Wyatt Metzger 5 pass from Shoch (Ruhl kick), 5:26
STATISTICS
`Sel`Sham
First downs`12`11
Rushes-net yards`34-123`34-67
Passing yardage`136`106
Comp-Att-Int`4-16-0`13-27-1
Fumbles-lost`2-2`4-3
Penalties-yards`5-35`6-35
INDIVIDUAL STATISTICS
RUSHING — Selinsgrove: Danny Shoch 9-52; Dean Hollenbach 9-40; Nate Schon 12-33, TD; Ryan Aument 2-1; Team 2-(-3). Shamokin: Max Madden 16-72; Bryson James 7-10; Nate Grimes 4-7; Brett Nye 7-(-22).
PASSING — Selinsgrove: Shoch 4-16-0, 136 yds., 2 TDs. Shamokin: Nye 10-15-1, 94 yds.; Grimes 3-12-0, 12 yds.
RECEIVING — Selinsgrove: Wyatt Metzger 2-29, TD; Josh Nylund 1-70, TD; Brett Foor 1-37. Shamokin: Joe Masser 6-48; Matt Schiccatano 3-10; Ian Paul 2-34; Blake Kane 1-8; Wolfgang Pearson 1-6.