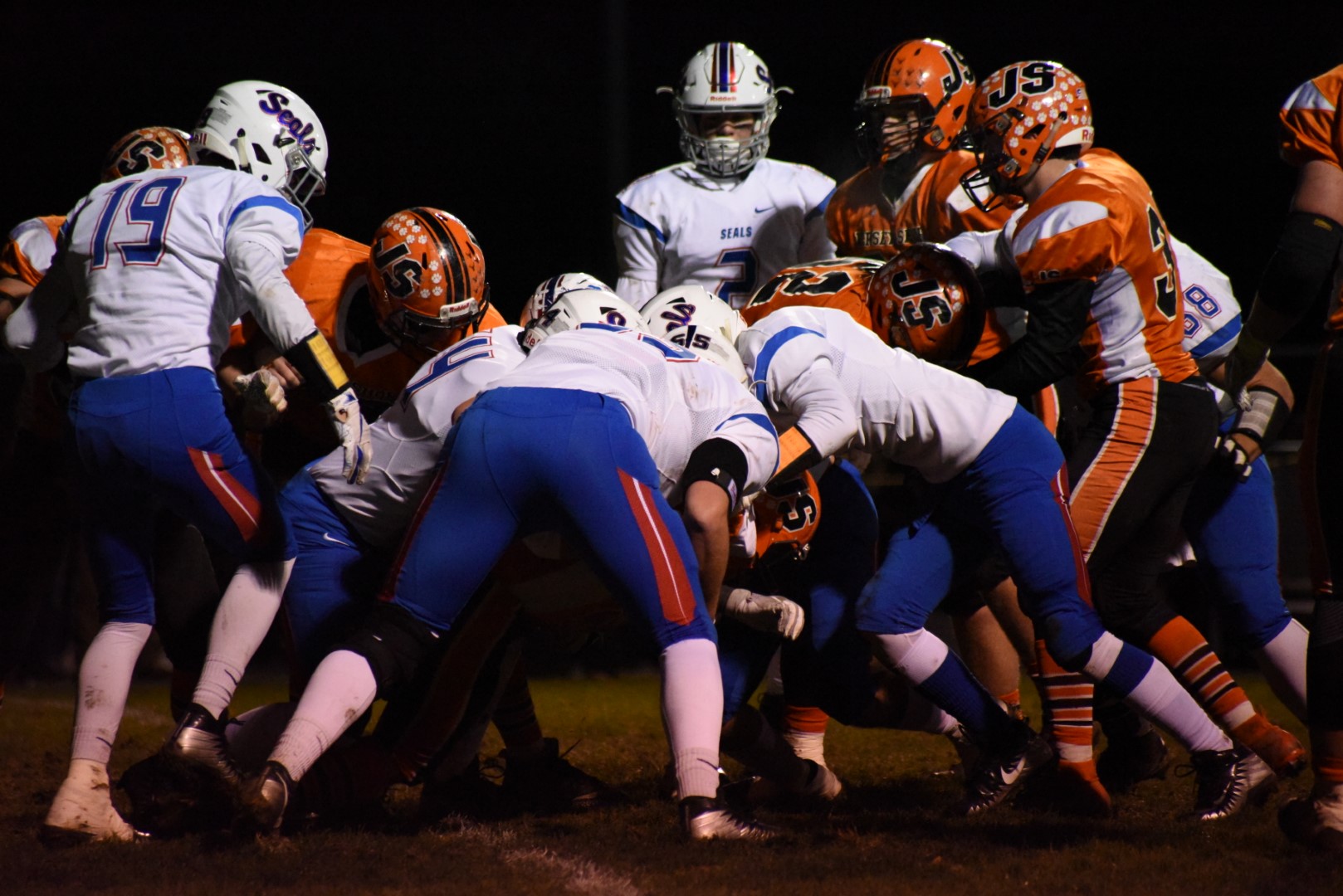 Selinsgrove's season comes to an end at the hands of Jersey Shore
By: Selinsgrove Athletics | Selinsgrove Athletics | November 9, 2019
JERSEY SHORE — Tanner Lorson accounted for 385 of Jersey Shore's 423 yards of offense to help the Bulldogs beat Selinsgrove, 33-14, in the District 4 Class 4A championship game at Thompson Street Stadium.
"I've said it all year. I've watched their films. It's a one-man show. You take him off the offense and it's not that hard to stop," Selinsgrove coach Derek Hicks said "He had to be a one-man show on offense."
Selinsgrove's defense picked off Lorson twice in the first half, settling in after allowing two early scoring drives, but the Seals managed just two first downs in the first half.
"When we were fresh in the first half, we were playing well," Hicks said. "The second half we couldn't get off the field."
The teams exchanged punts to open the third quarter, before Dean Hollenbach ripped off a 53-yard run to the Jersey Shore 14 and five-yard penalty set up the Seals on the 7, but Selinsgrove fumbled the ball away on the very next play.
Jersey Shore faced a third-and-three from the Seals 19 when Sheaffer — playing defense — leaped as Lorson tried to throw a short slant for first down. He picked off the pass and returned it to the Jersey Shore 8.
Two plays later, Hollenbach beat the Jersey Shore defense to the corner of the end zone for a touchdown — the first offensive touchdown the Seals scored against the Bulldogs — to tie the game with 7:08 left in the third quarter at 14-14.
Jersey Shore answered with a 73-yard, 13-play drive, helped by Lorson's nine-yard run on a fake punt to convert a fourth-and-7. Lorson hit Stanton Westlin for the TD with 3:29 left in the third and Cam Allison's extra point gave the Bulldogs a 21-14 lead.
That was the first score in 19 straight points for the Bulldogs to pull away.
DISTRICT 4 CLASS 4A
CHAMPIONSHIP GAME
at Thompson Street Stadium, Jersey Shore
NO. 1 JERSEY SHORE 33,
NO. 2 SELINSGROVE 14
Selinsgrove (7-5)`7`0`7`0 — 14
Jersey Shore (9-3)`14`0`13`6 — 33
SCORING SUMMARY
First quarter
JS-Tanner Lorson 1 run (Cam Allison kick)
Sel-Brett Foor 33 punt return (Kyle Ruhl kick)
JS-Lorson 4 run (Allison kick)
Third quarter
Sel-Dean Hollenbach 3 run (Ruhl kick)
JS-Stanton Westlin 17 pass from Lorson (Allison kick)
JS-Anthony Shaffer 4 pass from Lorson (kick failed)
Fourth quarter
JS-Owen Anderson 40 interception return (kick failed)
TEAM STATISTICS
`Sel`JS
First downs`4`17
Rushes-net yards`29-91`38-156
Passing yards`49`267
Passing`7-23-2`18-33-3
Fumbles-lost`3-2`2-1
Penalties-yards`10-85`9-80
INDIVIDUAL STATISTICS
RUSHING — Selinsgrove: Dean Hollenbach 10-76, TD; Nate Schon 9-10; Danny Shoch 5-8; Ryan Aument 3-(-1); team 2-(-2). Jersey Shore: Tanner Lorson 22-118, 2 TDs; Josh Malicky 13-36; Dawson Sechrist 3-2.
PASSING — Selinsgrove: Shoch 7-22-2 for 49 yards Josh Nylund 0-1-0; Jersey Shore: Lorson 18-33-3 for 267, 3 TDs.
RECEIVING — Selinsgrove: Hollenbach 1-18; Christian Kantz 2-14; Brett Foor 2-10; Nylund 1-6; Wyatt Metzger 1-1. Jersey Shore: Stanton Westlin 7-160, TD; Cayden Hess 4-62; Owen Anderson 5-31; Anthony Shaffer 2-14, TD.