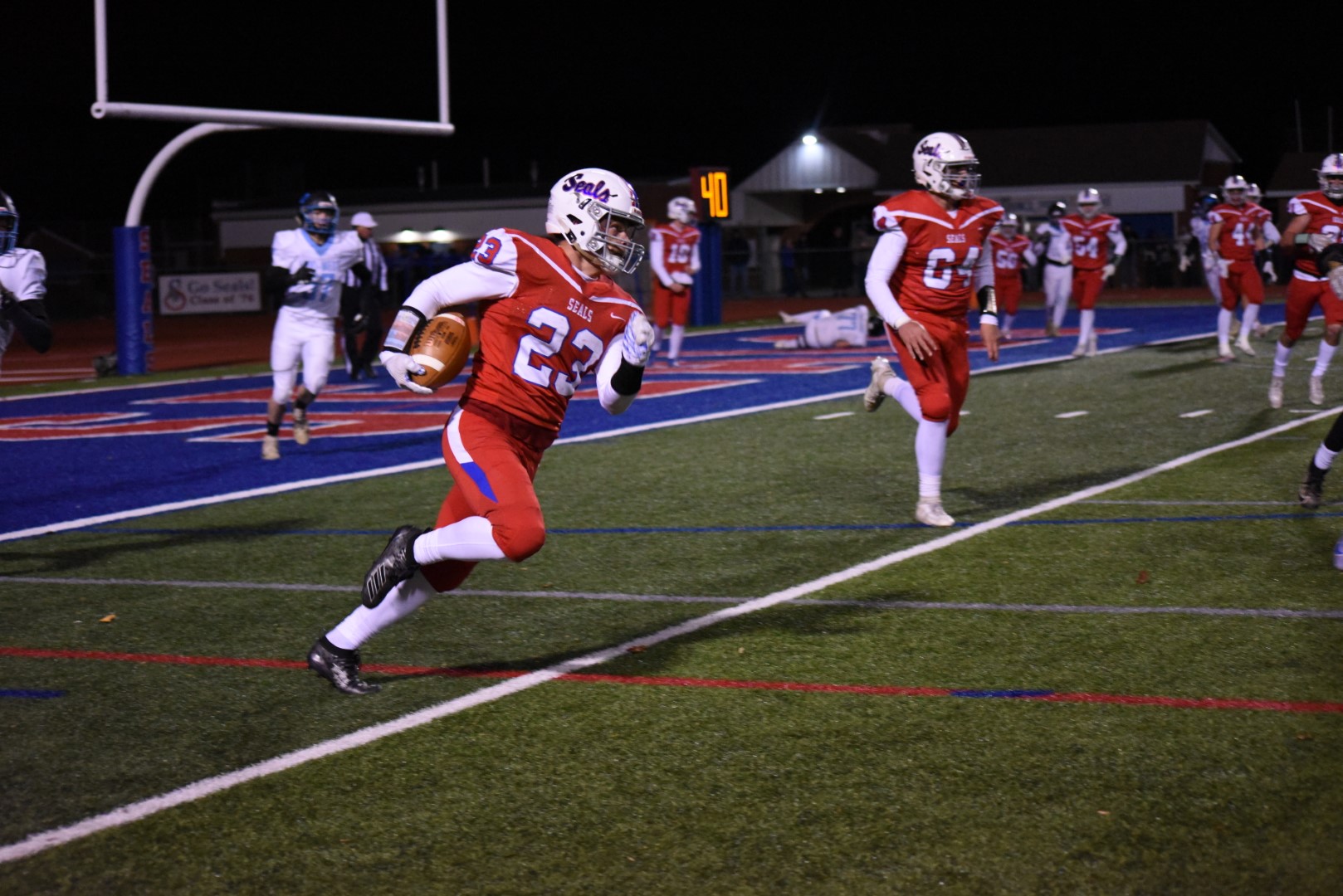 Selinsgrove wins district opener
By: Selinsgrove Athletics | Selinsgrove Athletics | November 2, 2019
SELINSGROVE — Dean Hollenbach tied a school record with a 99-yard touchdown run and finished with 163 yards and three touchdowns on the ground. Ryan Aument added three touchdowns - two on the ground and one in the air - as Selinsgrove rolled to a 48-6 win over Midd-West in the semifinals of the District 4 Class 4A playoffs.
Selinsgrove (7-4) now gets another chance at Jersey Shore (8-3), a 72-25 winner over Shikellamy in the other semifinal, at 7 p.m. Friday at Thompson Street Stadium, where the Seals lost 36-0 back on Aug. 31.
The Seals jumped on top early, forcing a three-and-out on the first Midd-West drive. Brett Foor's 23-yard punt return set up Selinsgrove at Midd-West 42. Josh Nylund took a jet sweep 12 yards on the first play, before Nate Schon ripped off a 30-yard TD run. Midd-West blocked the extra point and the Seals led 6-0 with 10:30 left in the first quarter.
The teams the exchanged punts, before Schon picked up a fumbled snap from his defensive tackle position 13 yards to the Midd-West 7. After a hold, Schon had 15-yard run to set Aument's first score, a two-yard plunge for a 13-0 lead with 3:06 left in the first quarter.
Metzger's catch-and-run on a crossing route came on the next drive to set up Hollenbach's first TD, a three-yard run with 9:15 left to make it 20-0. Aument partially blocked a punt to set up the next scoring drive that covered just 23 yards. Hollenbach capped the drive with a second three-yard scoring run, set up by his own 20-yard run on the first play of the drive.
Aument caught a 24-yard TD pass with 3:10 left in the second quarter, before Hollenbach's school-record run came with 1:46 left in the first half.
Hollenbach took a toss to his right and cut up the sideline. He broke an ankle tackle, then shook off an attempt from behind at the 50, crusing untouched the rest of the way. He tied the school record of Andy Sanchez, who had a 99-yard TD run against Jersey Shore on Sept. 6, 1991.
Aument added an 11-yard TD run on the opening drive of the third quarter.
DISTRCT 4 CLASS 4A
SEMIFINAL
NO. 2 SELINSGROVE 48,
NO. 3 MIDD-WEST 6
Midd-West (4-7)`0`0`6`0 — 6
Selinsgrove (7-4)`13`28`7`0 — 48
SCORING SUMMARY
First quarter
Sel-Nate Schon 30 run (kick blocked)
Sel-Ryan Aument 2 run (Kyle Ruhl kick)
Second quarter
Sel-Dean Hollenbach 3 run (Ruhl kick)
Sel-Hollenbach 3 run (Ruhl kick)
Sel-Aument 24 pass from Danny Shoch (Ruhl kick)
Sel-Hollenbach 99 run (Ruhl kick)
Third quarter
Sel-Aument 11 run (Ruhl kick)
MW-Trey Lauver 3 run (kick failed)
TEAM STATISTICS
`MW`SEL
First downs`7`13
Rushes-net yards`23-39`35-292
Passing yards`91`87
Passing`7-26-4`4-5-0
Fumbles-lost`2-1`3-3
Penalties-yards`5-35`13-116
INDIVIDUAL STATISTICS
RUSHING — Midd-West: Trey Lauver 8-26, TD; Ethan Schleif 3-17; Christian Regester 4-10; Hunter Wolfley 8-(-14). Selinsgrove: Dean Hollenbach 11-166, 3 TDs; Nate Schon 6-78, TD; Ryan Aument 6-43, 2 TDs; Josh Nylund 2-13; Jack Hawn 7-0; Tyler Dugan 1-0; Travis Meckley 1-(-3); Connor Grove 1-(-5).
PASSING — Midd-West: C. Regester 7-25-4 for 91 yards; Wolfley 0-1-0. Selinsgrove: Danny Shoch 4-5-0 for 87 yards, TD.
RECEIVING — Midd-West: Wolfley 4-46; Gabe Regester 2-26; Trent Peachey 1-19. Selinsgrove: Nylund 2-32; Wyatt Metzger 1-31; Aument 1-24, TD.