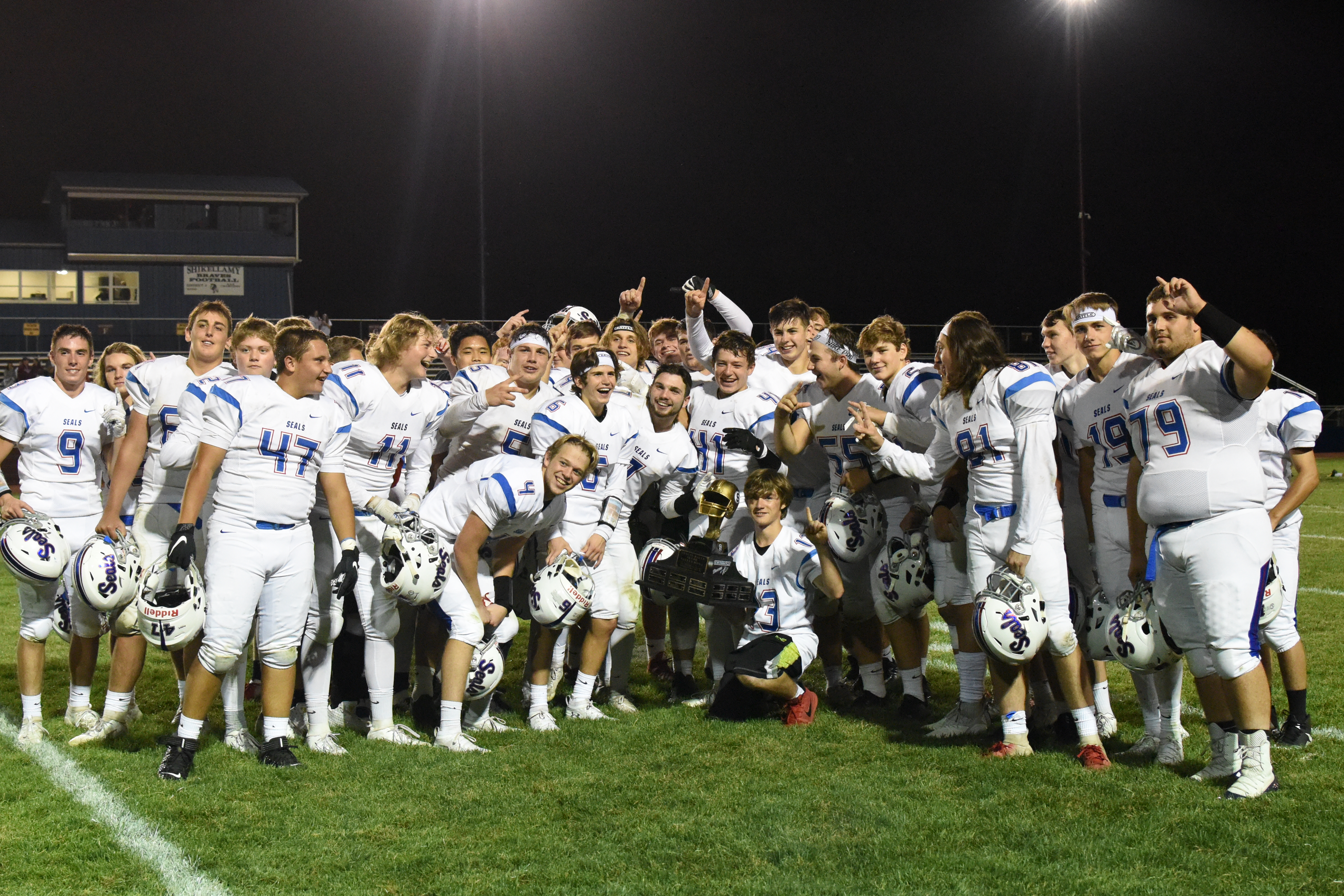 Selinsgrove takes Rally in the Valley trophy
By: Selinsgrove Athletics | Selinsgrove Athletics | September 14, 2019
SUNBURY - Coach Derek Hicks could finally breath a sigh of relief.
Two straight shutout losses left Hicks and his team wondering about themselves a little bit, but Friday night at Shikellamy Stadium, the Seals offense broke out and there wasn't much Shikellamy could do about it.
Danny Shoch threw three touchdowns and the Seals scored two touchdowns in the final three minutes of the first half to pull away from the Braves, 37-6, on Friday night in Pennsylvania Heartland Athletic Conference-Division I action.
"Things are certainly more optimistic after tonight, especially after 76-0 (the final score of Selinsgrove's loss to Southern Columbia, the previous week)," Hicks said. "The kids came out and things that we talked about on film, that we did well against Southern, we did well, tonight. Playing Southern's Wing-T really helped us with Shikellamy's Wing-T."
Shikellamy put together a nine-play, 59-yard drive that consumed 4:30 off the clock to tie the game at 6-6 with 10:29 left in the second quarter. Joel Derr scored from 13 yards out, and it looked as though the Seals and Braves were in for a dandy game.
The teams exchanged punts, but the Braves' punt set the Seals with good field position at the Shikellamy 31. The Braves had a chance to make a big stop with the Seals facing a fourth-and-goal from the 3, but Nate Schon punched it in with 2:26 left in the first half.
The Braves had a three-and-out that gave the Seals back the ball with 40 seconds left. Josh Nylund ran 11 yards on a jet sweep, then caught a 24-yard pass down to the Shikellamy 27, and quarterback Danny Shoch spiked the ball. The next play was pattern down the middle of the field where Nylund dove and stopped the ball with one-hand before corralling it for a TD and a 20-6 advantage.
"Our timing was a little off early," Nylund said. "We worked it out. Me and Danny communicated a little bit, then we got back on track. It paid off in the end."
After Dean Hollenbach returned the second half kickoff to the Seals 31, Selinsgrove lined up in the I-formation and faked the handoff to Schon. Tight end Wyatt Metzger found himself wide open running down the left side of the field. Shoch hit him right in stride for a 69-yard TD, and a 27-6 lead for the Seals with 11:40 left in the second half.
"That was something that (offensive coordinator) Mike (Ferriero) worked through the game. Then the guys upstairs saw the alignments," Hicks said. "The touchdown to Nylund before the half came from upstairs, so they did a good job dissecting (Shikellamy's defense)."
Selinsgrove dominated the second half, limiting Shikellamy to just 14 yards of total offense.
"I felt we were going into the half down seven, and we felt good," Shikellamy coach Todd Tilford said. "It just snowballed from that. ... Being down two scores for us with the offense that we want to run, it just changes all of the play calling."
Neither team could get anything going in the third quarter again until Nylund ripped a 45-yard punt return to give the Seals the ball at the Shikellamy 10 with 4:47 left in the third. The drive stalled due to a hold, but Kyle Ruhl knocked home a 26-yard field goal for 30-6 Selinsgrove lead with 3:46 left in the third quarter.
On the next Shikellamy (0-4, 0-1) offensive play, Trey Baney recovered a fumbled pitch for the Seals at the Shikellamy 20. The Seals went back to the play-action pass to Metzger, this time to the opposite side. The senior, who finished with three catches for 111 yards, scored to give Selinsgrove a 37-6 lead with 3:28 left in the third quarter.
SELINSGROVE 37, SHIKELLAMY 6
Selinsgrove (2-2)`6`14`17`0 — 37
Shikellamy (0-4)`0`6`0`0 — 6
SCORING SUMMARY
First quarter
Sel-Nate Schon 29 run (kick failed)
Second quarter
Shik-Joel Derr 14 run (kick blocked)
Sel-Schon 3 run (Kyle Ruhl kick)
Sel-Josh Nylund 27 pass from Danny Shoch (Ruhl kick)
Third quarter
Sel-Wyatt Metzger 69 pass from Shoch (Ruhl kick)
Sel-FG Ruhl 26
Sel-Metzger 20 pass from Shoch (Ruhl kick)
TEAM STATISTICS
Sel`Shik
First downs`19`9
Rushes-yards`31-162`33-74
Passing yards`170`52
Passing`9-16-0`4-13-0
Fumbles-lost`2-0`6-3
Penalties-yards`8-62`7-52
INDIVIDUAL STATISTICS
RUSHING — Selinsgrove: Nate Schon 10-84, 2 TDs; Dean Hollenbach 6-45; Josh Nylund 2-23; Ryan Aument 3-12; Danny Shoch 3-10; Nate Hackenberger 2-2; Jack Hawn 4-2; team 1-(-16). Shikellamy: Joel Derr 8-48, TD; Keyshawn Martin 1-16; Coltyn Sempko 3-11; Zahki Nettles 6-7; Nate Minnier 1-5; Brayden Long 2-3; Drew Balestrini 5-4; Wyatt Faust 1-0; Alex Geiser 1-0; Brayden Wertman 1-(-11); team 4-(-9).
PASSING — Selinsgrove: Shoch 9-15-0 for 170 yards, 3 TDs; team 0-1-0. Shikellamy: Balestrini 3-12-0 for 32 yards; Minnier 1-1-0 for 20 yards; Mason Brubaker 0-1-0.
RECEIVING — Selinsgrove: Wyatt Metzger 3-111, 2 TDs; Josh Nylund 4-65; Christian Kantz 1-5; Schon 1-(-11). Shikellamy: Brubaker 2-29; Davis Marshall 1-15; Sempko 1-8.