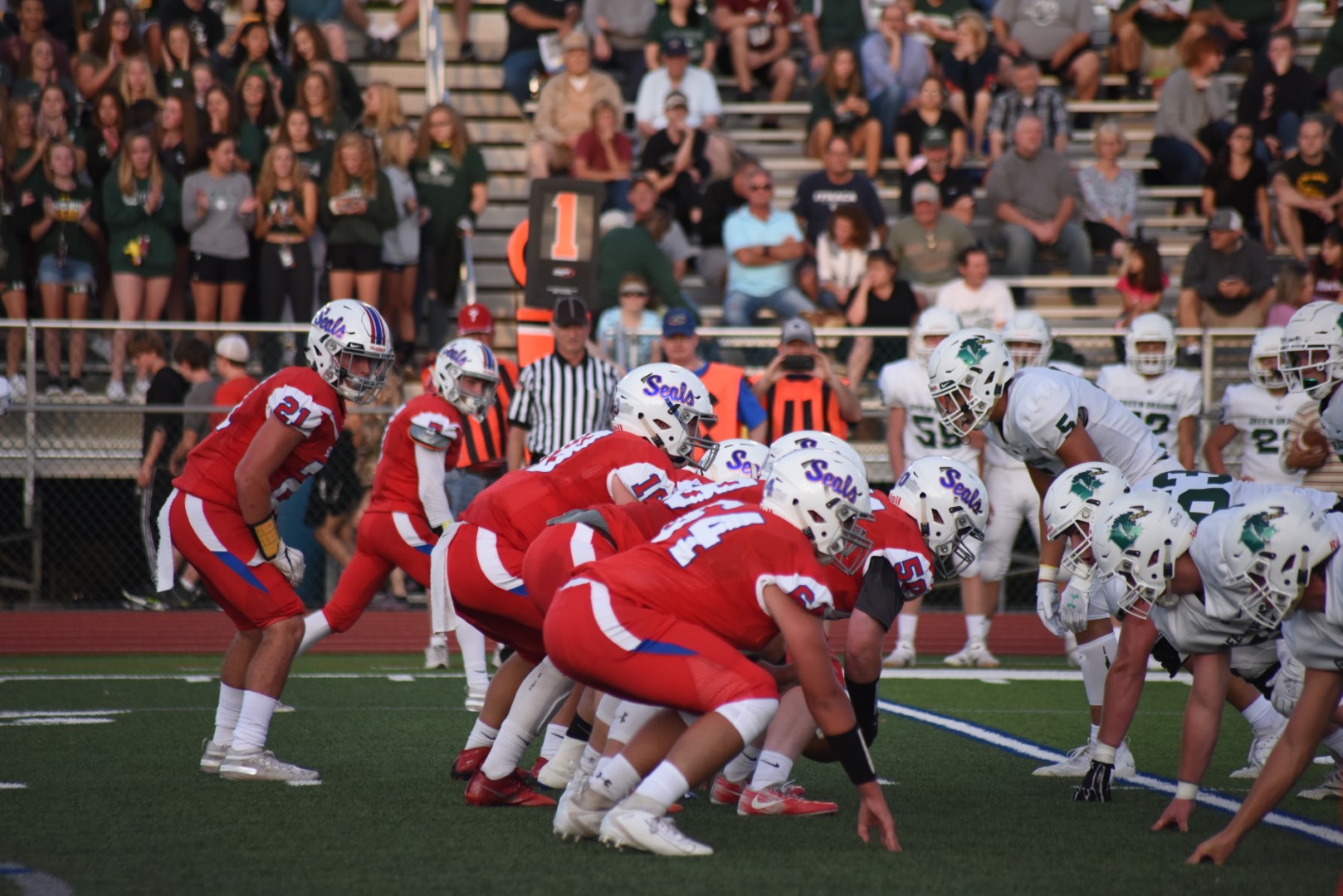 Selinsgrove running game too much for Lewisburg
By: Selinsgrove Athletics | Selinsgrove Athletics | August 24, 2019
SELINSGROVE - Selinsgrove honored some champions at halftime of its opener with Lewisburg at Harold L. Bolig Memorial Field, but the current Seals wanted show they have their eyes on a championship of the their own.
The Seals honored the 2009 PIAA Class 3A state football championship, the 2019 Class 4A baseball champions and Nate Schon for winning the 220-pound state title as well at halftime, before Schon finished with 155 yards on the ground to help Selinsgrove to a 28-8 win over Lewisburg in Pennsylvania Heartland Athletic Conference-Division I action on Friday night.
Selinsgrove wanted to see an improved running game in 2019 and certainly got it against the Green Dragons. Selinsgrove ran for 212 yards, while sophomore quarterback Danny Shoch threw for two first-quarter tochdowns.
The defense also played well limiting Lewisburg to just 80 yards on the ground, holding Max Moyers, who topped 2,000 yards last year, to just 51 yards rushing and no touchdowns.
The Seals got their season off to a quick start. Dean Hollenbach returned the opening kickoff 42 yards to set up a five-play, 48-yard drive, capped by a 23-yard TD pass from Shoch to Josh Nylund. Kyle Ruhl's PAT was good for a 7-0 lead with 9:31 left in the first quarter.
Selinsgrove forced a Lewisburg punt, and Brett Foor returned it 15 yards to the Selinsgrove 42. Hollenbach ripped off a 15-yard run to open the drive. Selinsgrove's drive was hurt by a hold, which pushed them back to the Lewisburg 28, but Shoch hit Christian Kantz for 9 yards, before connecting with Wyatt Metzger for a 14-0 lead after Ruhl's extra point with 4:37 left in the first quarter.
Selinsgrove put together two more drives in the first half, but the Seals were forced to punt after a 52-yard drive from their own 10, then had a drive stall out at the end of the half after two penalties after the Seals had a first down at the Lewisburg 14.
Trey Baney picked up a sack to end the first Lewisburg drive of the second half. The Seals then added to their lead with a nine-play, 60-yard drive, eight of which came on the ground. Shoch hit Kantz for 14 yards on a third-and-8 from the Lewisburg 15, before Shoch plunged in from the 1 to give Selinsgrove a 21-0 lead after Ruhl's third PAT with 4:07 left in the third quarter.
The Seals pushed their lead to 28-0 early in the fourth quarter when Schon scored from six yards out.
SELINSGROVE 28, LEWISBURG 8
Lewisburg (0-1)`0`0`0`8 - 8
Selinsgrove (1-0)`14`0`7`7 - 28
SCORING SUMMARY
First quarter
Sel-Josh Nylund 23 pass from Danny Shoch (Kyle Ruhl kick)
Sel-Wyatt Metzger 19 pass from Shoch (Ruhl kick)
Third quarter
Sel-Shoch 1 run (Ruhl kick)
Fourth quarter
Sel-Nate Schon 6 run (Ruhl kick)
Lew-Ethan Dominick 47 pass from Nick Shedleski (Max Moyers run)
Individual statistics
RUSHING - Lewisburg: Max Moyers 17-51; Ethan Dominick 2-18; Cam Michaels 2-12; Michael Farronato 1-2; Nick Shedleski 5-(-3). Selinsgrove: Nate Schon 24-155, TD; Dean Hollenbach 9-51; Ryan Aument 3-17; Danny Shoch 7-(-2), TD; Conner Grove 1-(-4); Devin Pardoe 3-(-5).
PASSING - Lewisburg: Shedleski 11-18-0 for 161 yards, TD. Selinsgrove: Shoch 12-17-0 for 150 yards, 2 TDs.
RECEIVING - Lewisburg: Dominick 5-92, TD; Dante Sims 2-39; Simeon Beiler 2-24; Ethan Spaulding 1-5; Moyers 1-1. Selinsgrove: Josh Nylund 4-56, TD; Christian Kantz, 3-32; Wyatt Metzger 2-36, TD; Schon 2-18; Aument 1-8.