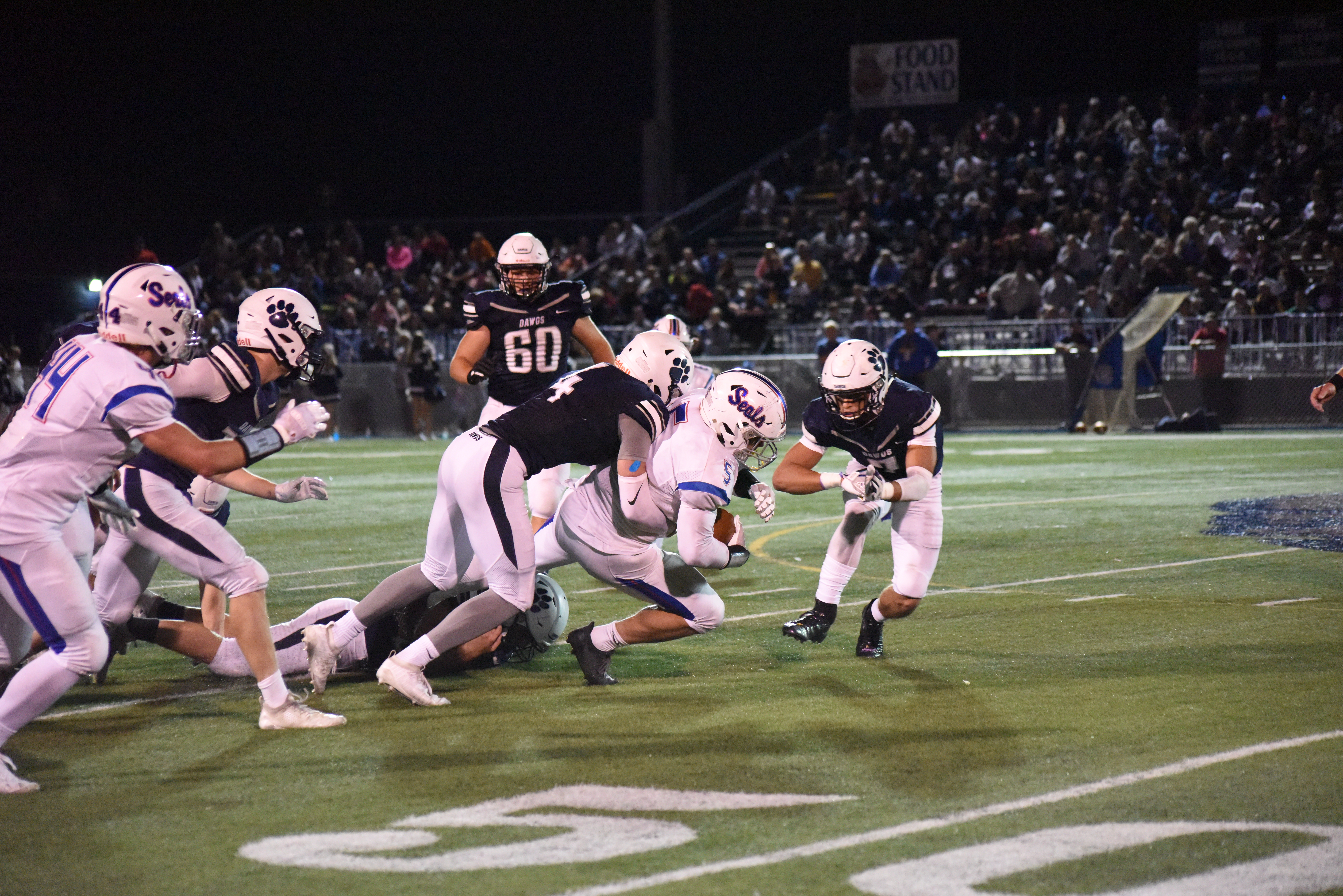 Selinsgrove falls to Berwick
By: Selinsgrove Athletics | Selinsgrove Athletics | September 21, 2019
BERWICK - Josh Nylund returned an interception eight yards for a touchdown with 3:23 left in the first quarter giving Selinsgrove an early lead against Berwick at Crispin Field.
However, the Bulldogs (5-0) limited the Seals to just 73 yards of total offense and five first downs on Friday night.
The Seals' only points came on Josh Nylund's interception return with 3:23 to play in the first quarter. The 8-yard pick-6 and Kyle Ruhl's PAT vaulted Selinsgrove into the lead, 7-6, until Berwick scored twice in a two-minute span midway through the second quarter.
Berwick (5-0) opened the game with a 75-yard drive highlighted by Ryan Laubach's 46-yard pass to Shawn Sheptock on a post pattern. The gain to Selinsgrove's 5 was immediately followed by Teagan Wilk's TD run.
The Bulldogs then forced a punt from midfield, but Wyatt Metzger's 46-yard boot was downed at the Berwick 1 by Dean Hollenbach. Two keepers gained nothing, and, on third down, Seals junior Nate Schon pressured Laubach into a pass from deep in the end zone that Nylund snared on the run near the home sideline for a touchdown.
Selinsgrove's defense turned a Berwick first down at the 11 into a 32-yard field goal try that Brendan Hinkle converted with 6:38 left in the half, nudging Berwick ahead 9-7.
Wilk, a senior all-stater who transferred from Southern Columbia after his freshman year, set up Berwick's last touchdown with a 36-yard punt return to the Selinsgrove 5. Aiden Mason (15 carries, 71 yards) ran it in one snap later for a 23-7 score.
BERWICK 23, SELINSGROVE 7
Selinsgrove (2-3)`7`0`0`0 — 7
Berwick (5-0)`6`10`0`7 — 23
Scoring summary
First quarter
B-Teagan Wilk 5 run (kick failed), 8:59
S-Josh Nylund 8 interception return (Kyle Ruhl kick), 3:23
Second quarter
B-Brendan Hinkle 32 field goal, 6:38
B-Shawn Sheptock 23 pass from Ryan Laubach (Hinkle kick), 4:34
Fourth quarter
B-Aiden Mason 5 run (Hinkle kick), 7:16
STATISTICS
`S`B
First downs`5`13
Rushes-yards`26-38`38-156
Passing yardage`35`126
Passing`5-13-1`7-18-1
Fumbles-lost`1-0`0-0
Penalties-yards`5-54`5-25
INDIVIDUAL STATISTICS
RUSHING — Selinsgrove: Nate Schon 9-37; Dean Hollenbach 6-19; TEAM 1-minus-1; Ryan Aument 1-minus-2; Danny Shoch 9-minus-15. Berwick: Aiden Mason 15-71, TD; Ryan Laubach 15-53; Teagan Wilk 5-21, TD; Alejandro Lopez 3-11.
PASSING — Selinsgrove: Shoch 5-13-1, 35 yards. Berwick: Laubach 7-17-1, 126 yards, TD; TEAM 0-1-0.
RECEIVING — Selinsgrove: Christian Kantz 3-18; Brett Foor 2-17. Berwick: Wilk 3-27; Shawn Sheptock 2-69, TD; Blane Cleaver 2-30.