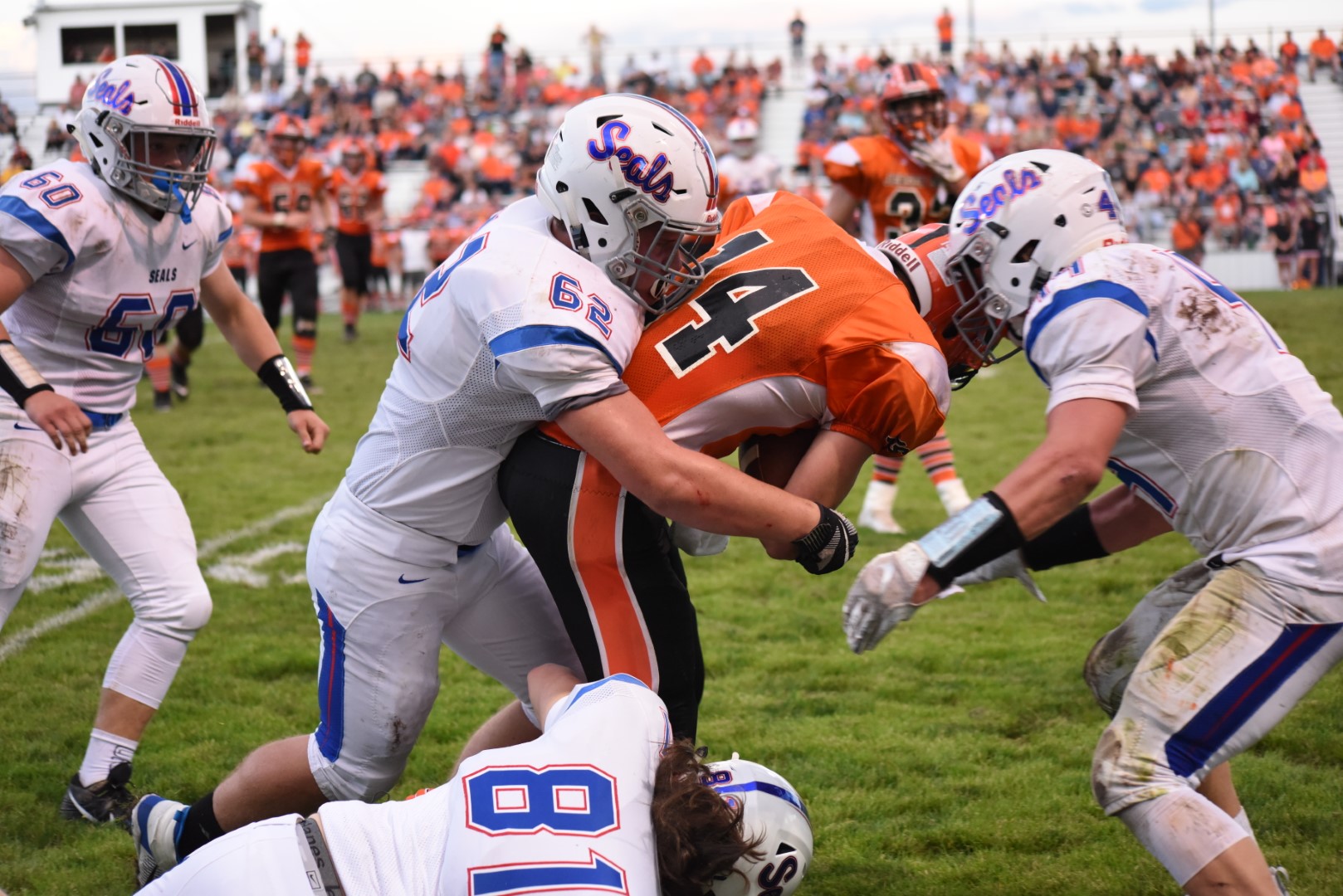 Seals gridders fall on the road
By: Selinsgrove Athletics | Selinsgrove Athletics | August 31, 2019
JERSEY SHORE - Selinsgrove coach Derek Hicks hoped to keep the potent hurry-up offense of Jersey Shore out of rhythm on Friday night at Thompson Street Stadium.
The Bulldogs had rolled up 55 points in an opening night win over Bellefonte, running 77 plays against the Red Raiders offense.
Sometime the best laid plans fall by the wayside.
Jersey Shore rolled up 474 yards of total offense and ran 82 plays to just 34 for Selinsgrove as the Bulldogs picked up a 36-0 win over the Seals in Pennsylvania Heartland Athletic Conference-Division I action.
"The things we did defensively last week - blowing up the line of scrimmage, geting that penatration," Hicks said. "We just couldn't find a way to that against them. It's one of those things, that we'll look at that film and see what went wrong."
Selinsgrove could never get going on Friday night. The Seals had just a lone first down, coming early in the fourth quarter. The Seals defense forced two punts early sandwiched around Jersey Shore's first touchdown, but couldn't take advantage.
By the time Tanner Lorson (249 passing yards, 120 rushing yards) connected with Owen Anderson with an 8-yard TD pass with a little over a minute left in the first half, Selinsgrove trailed 21-0.
JERSEY SHORE 36, SELINSGROVE 0
Selinsgrove (1-1) 0 0 0 0 - 0
Jersey Shore (2-0) 7 14 6 9 - 36
SCORING SUMMARY
First quarter
JS-Josh Malicky 5 run (Cameron Allison kick)
Second quarter
JS-Stanton Westlin 18 pass from Tanner Lorson (Allison kick)
JS-Owen Anderson 8 pass from Lorson (Allison kick)
Third quarter
JS-Lorson 11 run (kick blocked)
Fourth quarter
JS-Malicky 4 run (Allison kick)
JS-Safety, quarterback tackled in end zone
Team stats
SHS JSHS
First downs 1 24
Rushes-net yards 20-10 52-225
Passing yards 37 249
Passing 8-14-1 21-30-0
Fumbles-los 2-0 3-2
Penalties-yards 7-70 4-51
Individual statistics
RUSHING - Selinsgrove: Dean Hollenbach 5-19; Danny Shoch 7-(-1); Nate Hackenberger 2-(-2); Jack Hawn 1-(-2); Nate Schon 5-(-3). Jersey Shore: Tanner Lorson 21-120, TD; Josh Malicky 21-58, 2 TDs; Cameron Allison 4-36; Owen Anderson 4-7; Hayden Packer 1-5; Branden Wheary 1-(-1).
PASSING - Selinsgrove: Shoch 8-14-1 for 39 yards. Jersey Shore: Lorson 21-30-0 for 249 yards, 2 TDs.
RECEIVING - Selinsgrove: Josh Nylund 3-12; Brett Foor 2-15; Christian Kantz 1-9; Wyatt Metzger 1-1; Schon 1-0. Jersey Shore: Stanton Westlin 5-111, TD; Anderson 7-56, TD; Cayden Hess 4-40; Anthony Sheaffer 4-36; Dawson Sechrist 1-6.