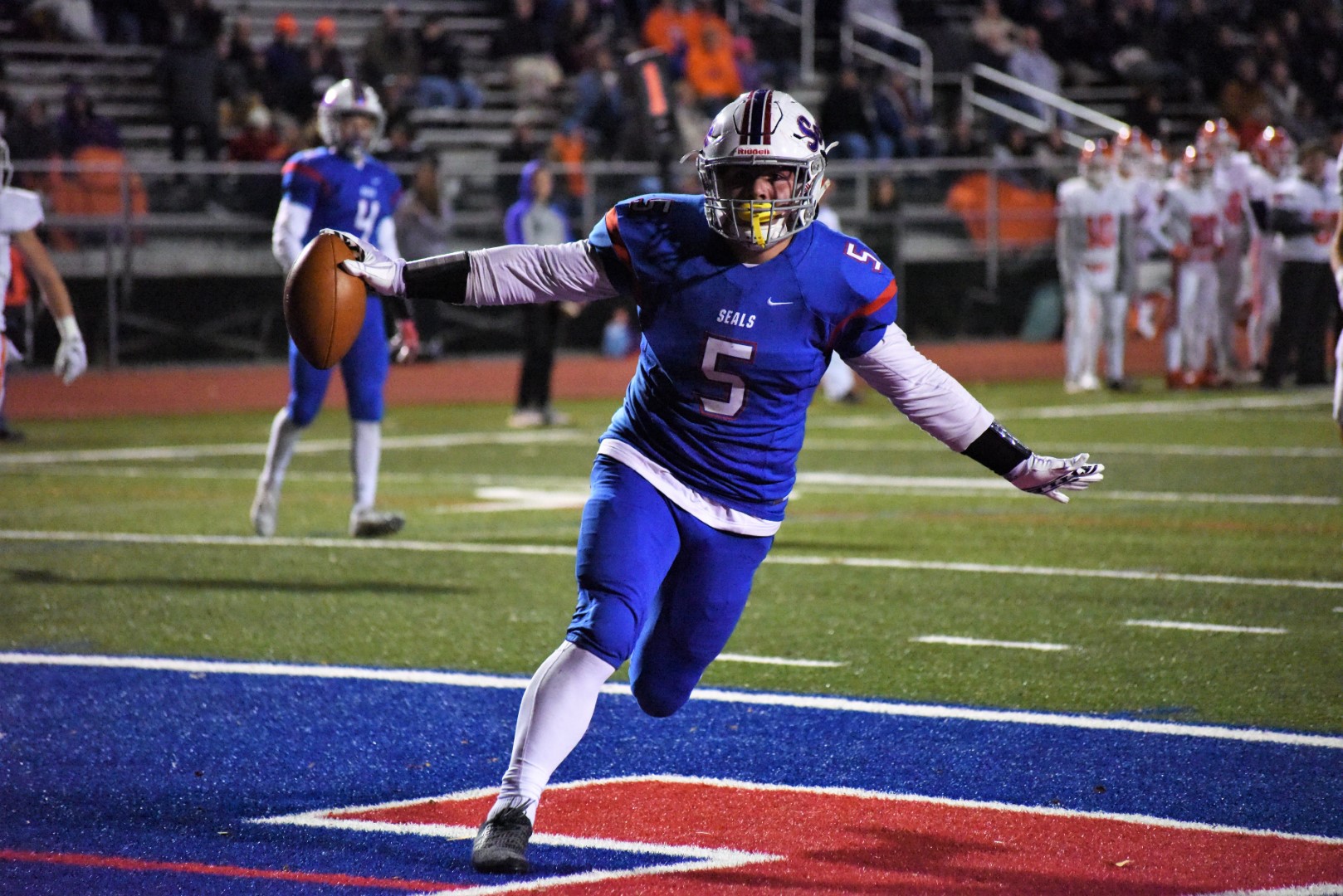 Schon runs for three TDs in win over Danville
By: Selinsgrove Athletics | Selinsgrove Athletics | October 19, 2019
Nate Schon ran for three touchdowns and the Selinsgrove defense came up with two interceptions in the regular-season finale at Harold L. Bolig Memorial Field, a 20-16 win over skidding Danville.
Schon finished with 187 rushing yards, and Selinsgrove forced four turnovers.
Seals defensive backs Danny Shoch and Josh Nylund intercepted KJ Riley on Danville's last two series after the junior quarterback produced 290 yards of offense to keep the Ironmen close.
Shoch's pick came on a fourth-and-10 pass from the Seals' 35-yard line with 4:09 left. Nylund made his second interception of the game on a third-and-31 heave from deep in Ironmen territory after penalties derailed Danville's last possession.
After a 7-6 first half, Danville took a 9-7 lead on K.J. Riley's 27-yard field goal after the Seals stiffened after a Danville first-and-goal.
Selinsgrove answered with a 10-play, 74-yard drive capped by Schon's 18-yard TD run gave the Seals a 13-9 advantage.
Danville (4-5) answered with a 66-yard drive to re-take the lead, but it lasted just 21 seconds.
Dean Hollenbach return the kickoff 35 yards and Schon went 54 yards to the end zone on the play for the game-winning score.
SELINSGROVE 20, DANVILLE 16
Danville (4-5)`0`6`3`7 — 16
Selinsgrove (6-3)`0`7`6`7 — 20
Scoring summary
Second quarter
D-Jagger Dressler 26 pass from KJ Riley (run failed), 5:49
S-Nate Schon 10 run (Kyle Ruhl kick), 2:17
Third quarter
D-FG Riley 27, 8:49
S-Schon 18 run (kick blocked), 4:08
Fourth quarter
D-Carson Persing 15 pass from Riley (Riley kick), 11:00
S-Schon 54 run (Ruhl kick), 10:39
STATISTICS
`D`S
First downs`18`11
Rushes-net yards`26-57`39-256
Passing yardage`232`30
Comp-Att-Int`21-35-3`3-6-1
Fumbles-lost`1-1`0-0
Penalties-yards`8-61`14-112
INDIVIDUAL STATISTICS
RUSHING — Danville: KJ Riley 14-58; Carson Persing 4-8; Jagger Dressler 1-3; Joey Harris 4-(-1); Ty Stauffer 2-(-5); Jack Smiley 1-(-6). Selinsgrove: Nate Schon 19-187, 3TDs; Ryan Aument 7-47; Danny Shoch 6-13; Josh Nylund 1-6; Dean Hollenbach 4-5; Team 2-(-2).
PASSING — Danville: Riley 21-35-3, 232 yds., 2TDs. Selinsgrove: Shoch 3-6-1, 30 yds.
RECEIVING — Danville: Dressler 7-80, TD; Harris 5-34; Persing 3-52; Colton Sidler 3-42; Jaydon Diven 1-10; C.J. Outt 1-10; Stauffer 1-4. Selinsgrove: Christian Kantz 2-22; Nylund 1-8.