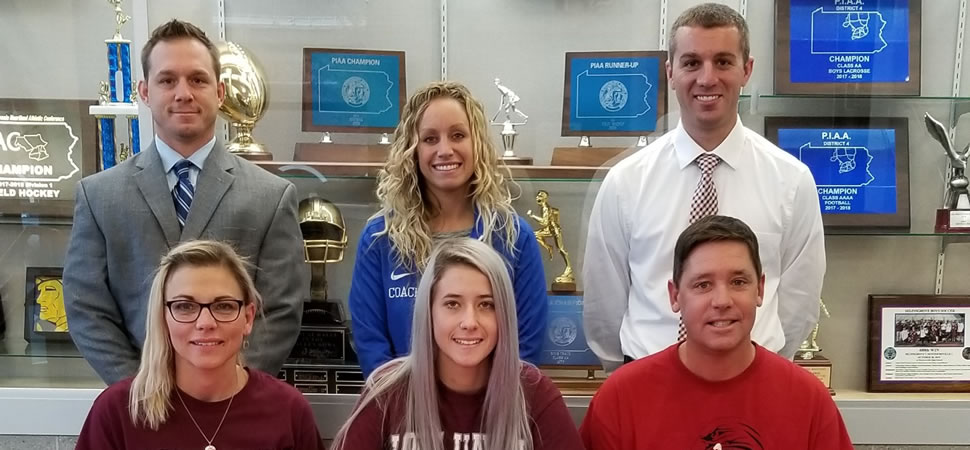 Sprenkel signs with Lock Haven to continue soccer career
By: Ed Weaver | Selinsgrove Athletics | November 15, 2018 | Photo courtesy Selinsgrove Athletics
Senior Marley Sprenkel chose to continue her soccer career at Lock Haven University by signing her Letter of Intent on Wednesday, November 14.
Sprenkel, the Lady Seals' 7th all-time leading goal scorer (48), expects to contribute right away to the Lady Eagles' roster that graduates 10 seniors from their 2018 roster.
"I'm bringing my positive attitude and commitment to the game of soccer to LHU, and also displaying my leadership qualities from the start. In the actual play of the game, I will contribute to the team my goal scoring abilities, and constant hustle and never giving up."
One of the factors the led Sprenkel to Lock Haven is their majors.
"I want to pursue being an athletic trainer and geeting a master's degree. Lock Haven has the perfect program. Plus, the campus itself is a perfect distance for me being only an hour from home."
Sprenkel had a stressful junior season as she constantly played at tournaments with her club soccer team in front of college coaches. That changed this year, however, as she met coach Kathy Brown.
"The recruiting process with Coach Brown was very smooth. I visited campus and met with her and she explained the program and said she would like me to commit. After that, we were in contact frequently. Also, my high school coach, Cheryl Underhill, is also an LHU alumni, so she helped me a lot in my recruiting process."
Sprenkel started all 4 years for the Lady Seals. As a freshman she scored 7 goals and added 8 during her sophomore season. Her final two years is when she really turned up her game, scoring 33 goals, 22 of which came this year. She also played a variety of positions, which she feels will help her moving forward.
"I played mainly forward, but also at midfield and outside mid. This versatility will increase my likelihood of playing as a freshman. Starting varsity as a freshman and every other year has helped me get experience playing against girls older than me, some being 4 years older, which is something I will experience again in college."